---
---
---

---
---

---

---

---

---
---
BACK to Superstar Gazing

Elton John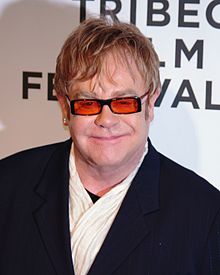 A former student of the Royal Academy of Music in London, England, the man born Reginald Kenneth Dwight in 1947 left school and immediately began his path in the music industry. His first band, Bluesology, was formed in 1961. He would later take his stage name from the Bluesology saxophonist Elton Dean and their charismatic frontman, Long John Baldry. Elton John was introduced to Bernie Taupin in 1967 by Ray Williams at Liberty Records. Amazingly, their first compositions were conducted by mail. In 1968 they became staff songwriters for Dick James' DJM label, farming out music to budding pop stars.
Elton and Bernie's prolific nature was established early in his career. By the time Elton's self-titled breakthrough album and evergreen hit Your Song had introduced him to an international stage in 1970, they had honed their skill to such a degree that Bernie could present Elton with a lyric and he could compose to it within the hour. In the period between 1970-76, with producer Gus Dudgeon at the helm, they made an astonishing fourteen albums including Elton John, Tumbleweed Connection, Madman Across The Water, Honky Chateau, Don't Shoot Me, I'm Only The Piano Player, Goodbye Yellow Brick Road, Caribou and Captain Fantastic And The Brown Dirt Cowboy. Amongst these, Captain Fantastic and the Brown Dirt Cowboy was the first album ever to enter the Billboard Chart at Number One. Goodbye Yellow Brick Road, with its string of American Number One hit singles and unbroken two month run at the top of the Billboard Top 100, became an all-time classic.
In 1974 Elton performed on John Lennon's comeback single Whatever Gets You Through The Night, and later that year was joined by Lennon onstage at New York's Madison Square Garden. This performance, always cited by Elton as one of the most memorable of his entire career, was to be John Lennon's final concert.
In the late 1970s Elton's partnership with Bernie Taupin came to a temporary standstill, and he worked with other lyricists. A Single Man provided a fortuitous musical hook-up with Gary Osborne, and his 1977 sessions with Philly Soul producer Thom Bell gave him with a Number One UK hit in 2003 with Are You Ready For Love, when it was re-released due to demand from influential British DJs. This is an ongoing pattern. Elton has always been given credit from unlikely quarters. The filmmaker Cameron Crowe immortalised Tiny Dancer in Almost Famous, and then featured My Father's Gun (from the 1970 album Tumbleweed Connection) in the movie Elizabethtown. Producer Eminem sampled Elton and Bernie's 1970 composition, Indian Sunset, on Tupac's single, Ghetto Gospel, and who would forget Ewan McGregor and Nicole Kidman's duet of Your Song in Baz Lehrman's Moulin Rouge?
In 1980 Elton and Bernie were reunited for the album 21 At 33. The album swiftly reacquainted Elton with the Top Ten and was followed by Jump Up! with the smash single Blue Eyes and Lennon tribute Empty Garden (Hey Hey Johnny). This return to peak form continued with Too Low For Zero, the home of two of Elton's live favourites to this day, I Guess That's Why They Call It The Blues and I'm Still Standing, his valedictory song to the troubles he had gone through.
In 1992 in the USA, and in 1993 in the UK, Elton established the Elton John AIDS Foundation; his pioneering charity dedicated to breakthrough work on behalf of those around the world suffering from HIV and related illnesses. The next year he released the double platinum album The One.
The 1990s saw him rise to new heights. His collaboration with Tim Rice on music for Disney's The Lion King garnered not only a Best male pop Grammy but also his first Academy Award. Elton has since collaborated with Tim Rice again on the Broadway smash Aida. Billy Elliot The Musical, with music by Elton John and lyrics by Lee Hall, was launched on the London stage in 2005. It is staggeringly successful, not only with the audiences, but also with the most hard-bitten theatre critics on both side of the Atlantic.
The late 1990s were a time of personal tragedy for Elton, with the loss of his good friends, fashion designer Gianni Versace, and Diana, Princess of Wales. Only one artist can have the biggest selling single of all time, and since 1997 Elton has held that record. It occurred because of a tragic death that echoed around the world, and the millions who saw Elton's only performance of the song were touched by his struggle for composure on this saddest of occasions. Candle in the Wind 1997, Elton and Bernie's heartbreaking tribute to the late Diana, Princess of Wales, has sold well over 33,000,000 copies.
In 1998 Elton received a knighthood from HM Queen Elizabeth II for "services to music and charitable services" and became Sir Elton Hercules John, CBE.
The new millennium has seen Elton at the top of his game, continuing to play frequent, sell-out concerts all over the world along with his band. In 2004 Elton and the band began a residency with The Red Piano show at the Caesars Palace Colosseum in Las Vegas, art-directed by the brilliant conceptualist, David LaChapelle. Originally booked for 75 shows over three years, The Red Piano exceeded all expectations and proved so popular with audiences that Elton completed the original commitment in only 18 months. During this time Caesars Palace extended the agreement for an additional 166 shows for a final engagement total of 241, ending in April 2009. In 2008 the DVD of The Red Piano was released worldwide in several formats.
Four decades since the 1969 release of his first album, Empty Sky, Elton John is still creating some of the finest music of his career. The 2001 album Songs From The West Coast gave him another smash hit single with I Want Love, and then in 2005 the release of the deluxe edition of Peachtree Road, including three new songs from Billy Elliot The Musical gave Elton another hit single with the Billy Elliot song Electricity. In 2002 he was awarded an honorary doctorate from the Royal Academy of Music. Other landmark awards include Best British Male Artist Brit Award 1991; induction into the Rock 'n' Roll Hall of Fame, 1994; five Grammy Awards 1986-2000; Grammy Legend Award, 2001; Kennedy Center Honor, 2004 and 11 Ivor Novello Awards between 1973 and 2000.
In September 2005 Elton marked the 30th anniversary of the release of one of his best-loved albums, Captain Fantastic and the Brown Dirt Cowboy, with a new deluxe CD version of the album, and a series of special concerts in America where he performed most of the Captain Fantastic songs in concerts that lasted for well over three hours. In the same year Elton and Bernie Taupin collaborated on the music for Lestat, based on Anne Rice's Vampire Lestat novels. This musical opened on New York's Broadway in April 2006.
In 2006 he released the autobiographical album The Captain & The Kid, the sequel to Captain Fantastic and the Brown Dirt Cowboy. 2007 saw the release of Rocket Man - The Definitive Hits, a single CD album or deluxe DVD which features eighteen classic hit songs. Also in 2007, for the first time ever, Elton's entire back catalogue of nearly 500 tracks (90 singles and 32 albums) became available to download legally.
The release of Rocket Man marked a huge anniversary for Elton - on March 25th, 2007, he celebrated his 60th birthday while breaking his own record with an unmatched 60th concert at the legendary Madison Square Garden in New York. No other entertainer has come close to matching this record.
In November 2008 Billy Elliot the Musical opened at the Empire Theatre, Broadway and, to Elton's delight, is a resounding critical and box office hit. It received a record 10 Tony Awards in 2009, including Best Musical. Billy Elliot has also launched in Sydney and Melbourne, Australia, in Chicago and has toured North America. In 2011 it will open in Toronto, Canada. In 2010 Elton and David Furnish produced the hit Broadway Musical, Next Fall.
Elton remains committed to his music and to touring, becoming more, rather than less, busy as time passes. He began 2009 onstage at the 02 Arena in London, where he welcomed in the New Year with a live TV broadcast of the Red Piano show. During that year he went on to play 92 public concerts - either with his band, with Billy Joel, with Ray Cooper or on his own - in Brazil, Argentina, Chile, Venezuela, Colombia, Mexico, USA, Canada, Croatia, Italy, Germany, Portugal, England, Sweden, Norway, Scotland, Ireland, Finland, Russia, France, Spain, Holland, Switzerland and Belgium. One of the year's highlights was Ray Cooper's welcome return to the stage with Elton for an amazing concert at the Royal Albert Hall in aid of the Royal Academy of Music.
During 2010 Elton toured with Billy Joel, with Ray Cooper, and with his band: Bob Birch (bass), Kim Bullard (keyboards), Davey Johnstone (guitars), John Mahon (percussion) and Nigel Olsson (drums). He also recorded a new studio album, The Union, in collaboration with Leon Russell and Bernie Taupin, and produced by T Bone Burnett. Released in October, the album was an international chart success and led to Elton and Leon Russell touring in the USA along with their bands, and musicians from The Union studio recording.
Biography at-a-glance
SIR ELTON HERCULES JOHN, (Knighted 1998.) Born Pinner, Middlesex, England, March 25, 1947, Reginald Kenneth Dwight. Son of late Stanley Dwight and of Sheila (now Farebrother), changed name to Elton Hercules John.
Married Renate Blauel, Feb 14, 1984 (Dissolved Nov. 18, 1988), Civil Partnership with David Furnish, December 21, 2005. Student, Royal Academy of Music, London, 1959-64.
Singer, songwriter, musician, began playing piano 1951, joined group Bluesology, 1965-67. Since 1969 has toured across the world consistently as a solo performer and with the Elton John band.
Film (appearance): Tommy, 1975.
Films (voice): The Lion King, 1994, The Road to El Dorado, 2000.
Appearances: Live Aid, 1985, Freddie Mercury Tribute concert, 1992, Live 8, 2005.
Composer: (Broadway musical) The Lion King, 1998 (6 Tony Awards); Aida, 2000 (Tony Award for Best Original Score); Lestat, 2006; (West End Musical) Billy Elliot the Musical, 2005 (Olivier Award for Best Musical).
Composer: (albums) Empty Sky, 1969; Elton John, Tumbleweed Connection, 1970; 11.17.70, Friends, Madman Across The Water, 1971; Honky Chateau, 1972; Don't Shoot Me I'm Only the Piano Player, Goodbye Yellow Brick Road, 1973; Caribou, Greatest Hits, 1974; Captain Fantastic and the Brown Dirt Cowboy, Rock of the Westies, 1975; Here and There, Blue Moves, 1976; Greatest Hits Volume II, 1977; A Single Man, 1978; Victim of Love, 1979; 21 at 33, 1980; The Fox, 1981; Jump Up, 1982; Too Low for Zero, 1983; Breaking Hearts, 1984; Ice on Fire, 1985; Leather Jackets, 1986; Live in Australia, 1987; Reg Strikes Back, 1988; Sleeping With the Past, 1989; To Be Continued, 1990; The One, 1992; Duets, 1993; Made in England, 1995; Love Songs, 1996; The Big Picture, 1997; Elton John and Tim Rice's Aida, The Muse, 1999; One Night Only, 2000; Songs From the West Coast, 2001; Greatest Hits 1970 - 2002, 2002; Peachtree Road, 2004; The Captain & The Kid, 2006; Rocket Man- Number Ones, 2007; The Union, 2010.
Composer music (film): The Lion King, 1994 (Best Original Song Acad. Award for Can You Feel the Love Tonight?); The Road to El Dorado, 2000.
Chairman of Watford Football Club, 1976-90, president, 1990-.
Established Elton John AIDS Foundation in 1992.
Patron - IAVI (International AIDS Vaccine Initiative), Patron - Terrence Higgins Trust, Patron - The Globe Theatre, Patron - Amnesty International, Scholarship Fund - Royal Academy of Music, Chairman - Old Vic Trust.
Awards include Best British Male Artist Brit Award 1991, inducted into Rock 'n Roll Hall of Fame, 1994, 5 Grammy Award 1986-2000, Grammy Legend Award, 2001, Kennedy Center Honor, 2004, 11 Ivor Novello Awards, 1973 - 2000.
Achievements include: first popular Western singer to perform in USSR, 1979; playing to over 2 million people across 4 continents, 1984-86. Made Commander of the Order of the British Empire, 1996; received knighthood from Queen Elizabeth II, February 24, 1998. Released biggest selling single of all time, Candle In The Wind 1997 (over 33,000,000 copies sold), 1997. Received Honorary Doctorate, Royal Academy of Music, 2002, became Fellow of the British Academy of Songwriters and Composers, 2004.
Co-written many international hit songs with Bernie Taupin (and others) including Your Song, Rocket Man, Crocodile Rock, Daniel, Goodbye Yellow Brick Road, Candle In The Wind, Don't Let the Sun Go Down On Me, Philadelphia Freedom, Don't Go Breaking My Heart (duet with Kiki Dee), Sorry Seems to be the Hardest Word, The Bitch Is Back, Song For Guy, I Guess That's Why The Call the Blues, I'm Still Standing, Nikita, Blue Eyes, Sacrifice, Circle of Life, Are You Ready For Love, I Want Love, Electricity.
- from EltonJohn.com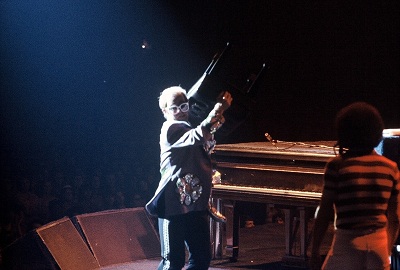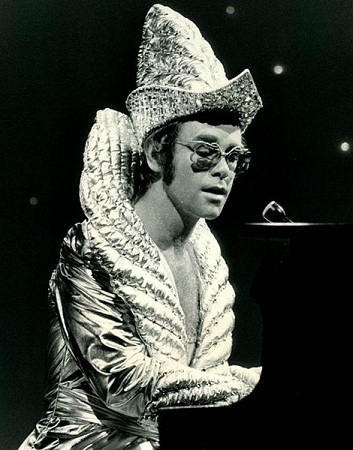 CLICK for Elton John items available from Amazon.com
BACK to Superstar Gazing
---
---
---

---
---
---
---
BACK to Superstar Gazing