---
---

---
---
BACK to Superstar Gazing

Lady Gaga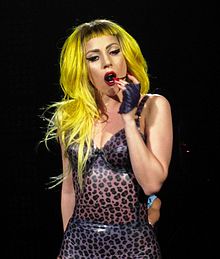 Stefani Joanne Angelina Germanotta (born March 28, 1986), better known by her stage name Lady Gaga, is an American singer and songwriter. Born and raised in New York City, she primarily studied at the Convent of the Sacred Heart and briefly attended New York University's Tisch School of the Arts before withdrawing to focus on her musical career. She began performing in the rock music scene of Manhattan's Lower East Side, and by the end of 2007, was signed with Streamline Records. Employed as a songwriter for the record company, her vocal abilities captured the attention of recording artist Akon, who signed her to his label Kon Live Distribution.
Lady Gaga came to prominence as a recording artist following the release of her debut album The Fame (2008), which was a critical and commercial success that topped charts around the world and included the international number-one singles "Just Dance" and "Poker Face". After embarking on the Fame Ball Tour, she followed the album with The Fame Monster (2009), which spawned the worldwide hit singles "Bad Romance", "Telephone" and "Alejandro" and allowed her to embark on the eighteen-month long Monster Ball Tour, which later became one of the highest-grossing concert tours of all time. Her most recent album Born This Way (2011) topped the charts of most major markets and generated more international chart-topping singles that include "Born This Way", "Judas" and "The Edge of Glory". Beside her musical career, she involves herself with humanitarian causes and LGBT activism.
Influenced by such acts as David Bowie, Michael Jackson, Madonna and Queen, Lady Gaga is well-recognized for her flamboyant and diverse contributions to the music industry through fashion, performance and music videos. She has sold an estimated 23 million albums and 64 million singles worldwide, making her one of the best-selling music artists of all time and her singles some of the best-selling worldwide. Her achievements include four Guinness World Records, five Grammy Awards and thirteen MTV Video Music Awards. Lady Gaga has consecutively appeared on Billboard magazine's Artists of the Year (scoring the definitive title in 2010), is regularly placed on lists composed by Forbes magazine, and was named one of the most influential people in the world by Time magazine.
Biography
1986-2004: Early life
Lady Gaga was born Stefani Joanne Angelina Germanotta on March 28, 1986, in New York City. Brought up in the family home in Manhattan's Upper West Side, Lady Gaga is of Italian and more distant French-Canadian descent, and is the daughter of Cynthia (nee Bissett) and Joseph Germanotta, an internet entrepreneur. The elder of two children, Lady Gaga has one sister, Natali, a fashion student, who was born in 1992. Lady Gaga has stressed that – despite her seemingly affluent upbringing - she did not come from a wealthy background, stating that her parents "both came from lower-class families, so we've worked for everything - my mother worked eight to eight out of the house, in telecommunications, and so did my father."
From the age of 11, Lady Gaga - who was raised Roman Catholic - attended the Convent of the Sacred Heart, a private all-girls Roman Catholic school on Manhattan's Upper East Side. She described her academic life in high school as "very dedicated, very studious, very disciplined" but also "a bit insecure" as she told in an interview, "I used to get made fun of for being either too provocative or too eccentric, so I started to tone it down. I didn't fit in, and I felt like a freak." Acquaintances dispute that she did not fit in at school. "She had a core group of friends; she was a good student. She liked boys a lot, but singing was No. 1," recalled a former high school classmate.
Left-handed Lady Gaga began playing the piano at the age of four, went on to write her first piano ballad at 13, and started to perform at open mike nights by the age of 14. Her passion for musical theatre brought her lead roles in high school productions, including Adelaide in Guys and Dolls and Philia in A Funny Thing Happened on the Way to the Forum. She also appeared in a very small role as a mischievous classmate in the television drama series The Sopranos in a 2001 episode titled "The Telltale Moozadell" in addition to unsuccessfully auditioning for parts in New York shows. When her time at the Convent of the Sacred Heart came to an end, her mother encouraged her to apply for the Collaborative Arts Project 21 (CAP21), a musical theatre training conservatory at New York University's Tisch School of the Arts. After gaining early admission at 17, she eventually lived in an NYU dorm on 11th Street.
She sharpened her songwriting skills while composing essays and analytical papers on art, religion, social issues and politics including a thesis on pop artists Spencer Tunick and Damien Hirst; such research prepared her for her future career focus in "music, art, sex and celebrity." She also tried out for and won auditions while at CAP21, including the part of an unsuspecting diner customer where MTV's Boiling Points - a prank reality television show - was being filmed. Notwithstanding these achievements, she felt that she was more creative than some of her classmates. "Once you learn how to think about art, you can teach yourself," she said. By the second semester of her sophomore year, she withdrew from the school to focus on her musical career. Her father agreed to pay her rent for a year, on the condition that she re-enroll at Tisch if unsuccessful. "I left my entire family, got the cheapest apartment I could find, and ate shit until somebody would listen," she remembers.
2005-07: Career beginnings
Settled in a small apartment on Rivington Street towards the summer of 2005, Lady Gaga recorded a couple of songs with hip-hop singer Grandmaster Melle Mel, for an audio book accompanying the children's book The Portal in the Park, by Cricket Casey. She also began a band called the Stefani Germanotta Band (SGBand) with some friends from NYU - guitarist Calvin Pia, bassist Eli Silverman, drummer Alex Beckham and booking manager Frank Fredericks - in September of that year. The band played a mixture of songs: some self-penned alongside classic rock numbers like Led Zeppelin's "D'yer Mak'er". Playing in bars like the Greenwich Village's The Bitter End and the Lower East Side's the Mercury Lounge, the band developed a small fan base and caught the eye of music producer Joe Vulpis. Soon after arranging time in Vulpis' studio in the months that followed, SGBand were selling their extended plays Words and Red and Blue at gigs around New York while becoming a local fixture of the downtown Lower East Side club scene.
SGBand reached their career peak at the 2006 Songwriters Hall of Fame New Songwriters Showcase at The Cutting Room in June where Wendy Starland, a singer and model, appeared as a talent scout for music producer Rob Fusari. Starland informed Fusari - who was searching for a female singer to front a new band - of Lady Gaga's ability and contacted her. With SGBand disbanded, Lady Gaga traveled daily to New Jersey to work on songs she had written and compose new material with the music producer. While in collaboration, Fusari compared some of her vocal harmonies to those of Freddie Mercury, lead singer of Queen. It was Fusari who helped create the moniker Gaga after the Queen song "Radio Ga Ga". Lady Gaga was in the process of trying to come up with a stage name when she received a text message from Fusari that read "Lady Gaga." He explained, "Every day, when Stef came to the studio, instead of saying hello, I would start singing 'Radio Ga Ga'. That was her entrance song" and that the text message was the result of a predictive text glitch that changed "radio" to "lady". She texted back, "That's it," and declared, "Don't ever call me Stefani again." The New York Post, however, has reported that this story is incorrect, and that the name resulted from a marketing meeting.
Although the musical relationship between Fusari and Lady Gaga was unsuccessful at first, the pair soon set up a company titled Team Lovechild in which they recorded and produced electropop tracks and sent them to music industry bosses. Joshua Sarubin, the head of A&R at Def Jam Recordings, responded positively and vied for the record company to take a chance on her "unusual and provocative" performance. After having his boss Antonio "L.A." Reid in agreement, Lady Gaga was signed to Def Jam in September 2006 with the intention of having an album ready in nine months. However, she was dropped by the label after only three months - an unfortunate period of her life that would later inspire her treatment for the music video for her 2011 single "Marry the Night". Devastated, Lady Gaga returned to the solace of the family home for Christmas and the nightlife culture of the Lower East Side. She became increasingly experimental: fascinating herself with emerging neo-burlesque shows, go-go dancing at bars dressed in little more than a bikini in addition to experimenting with drugs. Her father, however, did not understand the reason behind her drug intake and could not look at her for several months. "I was onstage in a thong, with a fringe hanging over my ass thinking that had covered it, lighting hairsprays on fire, go-go dancing to Black Sabbath and singing songs about oral sex. The kids would scream and cheer and then we'd all go grab a beer. It represented freedom to me. I went to a Catholic school but it was on the New York underground that I found myself." It was then when she became romantically involved with a heavy metal drummer in a relationship and break-up she likened to the musical film Grease: "I was his Sandy, and he was my Danny, and I just broke." He later became an inspiration behind some of her later songs.
During this time, she met performance artist Lady Starlight, who helped mold her on-stage persona. Starlight explained that, upon their first meeting, Lady Gaga wanted to perform with her to songs she had recorded with Fusari. Like SGBand, the pair soon began performing at many of the downtown club venues like the Mercury Lounge, The Bitter End, and the Rockwood Music Hall. Their live performance art piece was known as "Lady Gaga and the Starlight Revue" and, billed as "The Ultimate Pop Burlesque Rockshow", was a low-fi tribute to 1970s variety acts. Soon after, the two were invited to play at the 2007 Lollapalooza music festival in August that year. The show was critically acclaimed, and their performance received positive reviews. Having initially focused on avant-garde electronic dance music, Lady Gaga had found her musical niche when she began to incorporate pop melodies and the glam rock of David Bowie and Queen into her music.
While Lady Gaga and Lady Starlight were busy performing, producer Rob Fusari continued to work on the songs he had created with Lady Gaga. Fusari sent these songs to his friend, producer and record executive Vincent Herbert. Herbert was quick to sign her to his label Streamline Records, an imprint of Interscope Records, upon its establishment in 2007. Lady Gaga later credited Herbert as the man who discovered her, adding "I really feel like we made pop history, and we're gonna keep going." Having already served as an apprentice songwriter under an internship at Famous Music Publishing, which was later acquired by Sony/ATV Music Publishing, Lady Gaga subsequently struck a music publishing deal with Sony/ATV. As a result, she was hired to write songs for Britney Spears and labelmates New Kids on the Block, Fergie, and the Pussycat Dolls. While Lady Gaga was writing at Interscope, singer-songwriter Akon recognized her vocal abilities when she sang a reference vocal for one of his tracks in studio. He then convinced Interscope-Geffen-A&M Chairman and CEO Jimmy Iovine to form a joint deal by having her also sign with his own label Kon Live Distribution, making her his "franchise player." As 2007 came to a close, her former management company introduced her to songwriter and producer RedOne, whom they also managed. The first song she produced with RedOne was "Boys Boys Boys", a mash-up inspired by Mötley Crüe's "Girls, Girls, Girls" and AC/DC's "T.N.T.". Lady Gaga continued her collaboration with RedOne in the recording studio for a week on her debut album; making the chart-topping singles "Just Dance", "Poker Face" and "LoveGame" together. Lady Gaga also joined the roster of Cherrytree Records, an Interscope imprint established by producer and songwriter Martin Kierszenbaum, after co-writing four songs with Kierszenbaum including the singles "Christmas Tree" and "Eh, Eh (Nothing Else I Can Say)". Despite her secure record deal, she admitted that there was fear about her being too "racy", "dance-orientated" and "underground" for the mainstream market. She responded, "My name is Lady Gaga, I've been on the music scene for years, and I'm telling you, this is what's next."
2008-10: The Fame and The Fame Monster
By 2008, Lady Gaga had relocated to Los Angeles, where she worked extensively with her record label to complete her debut album in addition to setting up her own creative team - modeled on Andy Warhol's Factory - Haus of Gaga. Intensive work continued on the album, combining genres "from Def Leppard drums and hand claps to metal drums on urban tracks" while drawing inspiration from 1980s synthpop and incorporating dance music with clear hooks. The Fame, described as an exploration of her obsession with fame and the intricacies of a rich and famous lifestyle, was first released on August 19, 2008, preceded by lead single "Just Dance" four months earlier. Due to radio play being slow, Lady Gaga supported the releases by performing in the backwaters of Malta and Vietnam in addition to small gay clubs around the United States. She was also billed as a supporting artist on the North American leg of New Kids on the Block's reunion concert tour.
A sleeper hit, "Just Dance" hit the summit of the charts in six countries - Australia, Canada, the Netherlands, Ireland, the United Kingdom, and the United States - in January 2009. The Grammy Award-nominated song provoked the instant success of The Fame. Receiving positive reviews from contemporary critics who commended Lady Gaga's ability to discover a melodious hook and compared her vocal abilities to those of Gwen Stefani, the album went to number-one in countries like the United Kingdom, Canada, Austria, Germany, Switzerland and Ireland while appearing in the top-five in Australia, the United States and fifteen other countries. On Billboard's Dance/Electronic Albums chart, it stayed at the top spot 106 non-consecutive weeks. Since its release, The Fame has sold over 12 million copies worldwide. Lady Gaga achieved an even greater unexpected success when "Poker Face", another sleeper hit, reached number-one in almost all major music markets in the world including the United Kingdom and the United States in early 2009. The follow-up single won the award for Best Dance Recording at the 52nd Grammy Awards over nominations for Song of the Year and Record of the Year, while The Fame was nominated for Album of the Year and won the Grammy Award for Best Dance/Electronica Album. Lady Gaga was the recipient of many other honors in 2009 including the accumulation of 3 of 9 MTV Video Music Awards nominations - she won Best New Artist while the video for her single "Paparazzi" gained the awards for Best Art Direction and Best Special Effects - and Billboard magazine's Rising Star award. In addition to being an opening act on the Pussycat Dolls' Doll Domination Tour during the first half of 2009 on their legs in Europe and Oceania, she also embarked on her own six-month critically appreciated worldwide concert tour The Fame Ball Tour which ran from March to September 2009.
While she traveled the world on tour, she wrote The Fame Monster, a collection of eight songs, which was released in November 2009. Each song, dealing with the darker side of fame from personal experience, is expressed through a monster metaphor. Its first single "Bad Romance" topped the charts in eighteen countries, while reaching the top-two in the United States, Australia and New Zealand. It made Gaga the first artist in digital history to have three singles (along with "Just Dance" and "Poker Face") to pass the four million mark in digital sales and accrued the Grammy Award for Best Female Pop Vocal Performance while its accompanying music video won the Grammy Award for Best Short Form Music Video at the 53rd Grammy Awards The album's second single "Telephone", which features singer Beyoncé, was nominated for the Grammy Award for Best Pop Collaboration with Vocals and became Lady Gaga's fourth UK number-one single while its accompanying music video, although controversial, received a more positive reception from contemporary critics: praising her for "the musicality and showmanship of Michael Jackson and the powerful sexuality and provocative instincts of Madonna." Her following single "Alejandro" paired Gaga with fashion photographer Steven Klein for a music video similarly as controversial - critics complimented its ideas and dark nature but the Catholic League attacked Gaga for her alleged use of blasphemy. Despite the controversy surrounding her music videos, they made Lady Gaga the first artist to gain over one billion viral views on video-sharing website YouTube. Musically, The Fame Monster has also received abundant success. Equating to the amount of Grammy nominations her debut received, The Fame Monster garnered a total of six nominations; the album won for Best Pop Vocal Album and earned her a second-consecutive nomination for Album of the Year at the 53rd annual awards ceremony.
The success of the album allowed Lady Gaga to start her second worldwide concert tour, The Monster Ball Tour, just weeks after the release of The Fame Monster and months after having finished The Fame Ball Tour. Upon finishing in May 2011, the critically acclaimed and commercially accomplished[76] tour ran for over one and a half years and, according to Billboard, grossed $227.4 million, making it one of the highest-grossing concert tours of all time and the highest-grossing for a debut headlining artist. Lady Gaga also performed songs from the album at international events such as the 2009 Royal Variety Performance where she sang "Speechless", a power ballad, in the presence of Queen Elizabeth II; the 52nd Grammy Awards where her opening performance consisted of the song "Poker Face" and a piano duet of "Speechless" in a medley of "Your Song" with Elton John; and the 2010 BRIT Awards where a performance of an acoustic rendition of "Telephone" followed by "Dance in the Dark" dedicated to the late fashion designer and close friend, Alexander McQueen, supplemented her hat-trick win at the awards ceremony. Other performances may have included her participation in Michael Jackson's This Is It concert series at London's O2 Arena. "I was actually asked to open for Michael on his tour," she stated. "We were going to open for him at the O2 and we were working on making it happen. I believe there was some talk about us, lots of the openers, doing duets with Michael on stage." A realized collaboration with Polaroid started in January 2010. Excited about combining the company with the digital era, Lady Gaga was named Chief Creative Officer for a line of imaging products for the international optic company with the intent of creating fashion, technology and photography products.
Despite a successful debut, Mermaid Music LLC - her production team - was sued in March 2010 by past producer Rob Fusari who claimed that he was entitled to a 20% share of its earnings. Lady Gaga's lawyer, Charles Ortner, described the agreement with Fusari as "unlawful" and declined to comment. Five months later, the New York Supreme Court dismissed both the lawsuit and a countersuit by Lady Gaga. In addition to such strife, Lady Gaga has been tested borderline positive for lupus, but claims not to be affected by the symptoms. The revelations caused considerable dismay amongst her fans, leading to Lady Gaga addressing the matter in an interview with Larry King, saying she hopes to avoid symptoms by maintaining a healthy lifestyle.
2011-present: Born This Way and third studio album
Lady Gaga's second studio album and third major release Born This Way was released on May 23, 2011. Described as "a marriage of electronic music with major [...] metal or rock 'n' roll, pop, anthemic style melodies with really sledge-hammering dance beats" and referred to as an album "about what what keeps us up at night and what makes us afraid", she stated. Lady Gaga characterized her new music as "something so much deeper than a wig or lipstick or a fucking meat dress" and upon hearing it, Akon remarked that she is taking music to the "next level". Its arrival followed the release of its eponymous lead single "Born This Way" on February 11, 2011, which was performed live for the first time at the 53rd Grammy Awards two days after its release. The song, dealing with self-acceptance regardless of race or sexual orientation, debuted atop the Billboard Hot 100, becoming the 19th number-one debut and the 1,000th number-one single in the history of the charts, while selling more than 3 million digital copies in the United States by October 2011, becoming her eighth consecutive single to exceed the sales of two million. A music video was released for the song, showing Lady Gaga giving birth to a new race amidst surrealistic images; critics noted artistic and cultural references[95] and praised its concept. Lady Gaga lent her vocals elsewhere, pairing with Elton John to record an original duet for the animated feature film Gnomeo & Juliet. The song, titled "Hello, Hello", was released on February 11, 2011, without Lady Gaga's vocals. The duet version was only featured in the film. In February, Lady Gaga's concerts of her then-ongoing tour at Madison Square Garden in New York City, were filmed for an HBO special aired in May. The special was nominated for five awards at the 63rd Primetime Emmy Awards winning one – Outstanding Picture Editing for a Special (Single or Multi-Camera).
Two other singles, "Judas" and "The Edge of Glory", as well as a promotional single, "Hair", were eventually released before the album. The music video for "Judas", in which Gaga portrays Mary Magdalene, and Biblical figures such as Jesus Christ and Judas Iscariot are also featured, was criticized for its religious references; the video, nonetheless, received acclaim for its overall delivery and praise from others who claimed that there was nothing offensive about it. "Judas" additionally peaked within the top ten in several major musical markets. "The Edge of Glory" was intended as a promotional single; nevertheless, due to commercial success in digital outlets, the song was released as a single to critical appreciation, accompanied by a music video. Gaga also undertook a job as a fashion columnist for V, where she wrote about her creative process, her studying of the world of pop culture, and her ability to tune into the evolution of pop-culture meme. Upon release, Born This Way sold 1.108 million copies in its first week in the United States, debuting atop the Billboard 200, and topping the charts in more than 20 other countries. The album received generally positive reviews from music critics, who praised its range of different styles as well as her vocals. Later, Lady Gaga went to Sydney to promote Born This Way with a one-of-a-kind concert at the Sydney Town Hall on July 13, 2011.
She continued her musical endeavors, releasing "You and I" and "Marry the Night" as succeeding singles from Born This Way, as well as recording songs with veteran artists like Cher and Tony Bennett. The song recorded with Bennett is a jazz version of "The Lady Is a Tramp", while Lady Gaga described her duet with Cher as a "massive" and "beautiful" track, which she "wrote a long time ago, and I've never put it on one of my own albums for, really, no particular reason." On August 28, at the 2011 MTV Video Music Awards, Lady Gaga won two awards out of four nominations, and attended the event dressed as Jo Calderone, her male alter-ego. For the 2012 edition of the Guinness World Records, Lady Gaga was listed for Most Followers on Twitter, with over 13 million followers, and "Poker Face" was listed for Most Weeks on US Digital Hot Songs, with 83 weeks. Lady Gaga continued her live appearances, and performed at the celebration of former US president Bill Clinton's 65th Birthday alongside Bono, Stevie Wonder and Usher, among others. She wore a blond wig as a nod to the famous performance of Marilyn Monroe for John F. Kennedy and changed the lyrics to her song "You and I" specifically for the performance. Later on, Lady Gaga won four awards out of six nominations in the main categories at the 2011 MTV Europe Music Awards in November, for Best Female, Biggest Fans, Best Song and Best Video; the latter two with "Born This Way". On November 14, 2011, Lady Gaga and her choreographer and creative director Laurieann Gibson parted ways, after working together for four years. Gibson's assistant Richard Jackson replaced her as Lady Gaga's choreographer.
Lady Gaga released her fourth extended play A Very Gaga Holiday on November 22, and followed an appearance in her Thanksgiving Day television special entitled A Very Gaga Thanksgiving. The television special was critically acclaimed and attained 5.749 million American viewers upon original airing. The accompanying tour for Born This Way was materializing, and at the same time Gaga started writing songs for a new record. She further explained to MTV News that she and Garibay were working on the follow-up album to Born This Way and stated that it was "beginning to flourish". The singer spoke with The Insider on New Years Eve, and explained that in 2012 she will embark on her next tour, as well as release a new album.
Artistry
Influences
Lady Gaga's parents, who exposed her to artists like The Beatles, Stevie Wonder, Bruce Springsteen, Pink Floyd, Led Zeppelin and Elton John, had significant influence on her childhood and, presently, still do. "I am a real family girl. When it comes to love and loyalty, I am very old-fashioned. And I am quite down-to-earth for such an eccentric person," she insists. "I'm quite traditional in the family sense. I've always been that way." According to Lady Gaga, Joanne Germanotta - her aunt who died of lupus aged 19 - lives on through her and inspires all of her music and art. Joanne's date of death is tattooed on Gaga's body and, despite dying 12 years before her birth, Gaga commented, "I really believe I have two hearts. I think I actually carry two souls in my body, and that I'm living out the rest of her life and her goodness – she died a virgin, she died never having experienced all these things that we all get to love and experience in our lives." Another spiritual influence on Lady Gaga has been the Indian physician, public speaker and writer Deepak Chopra. Labeling him a "true inspiration", she stated that "he's always reminded me to work in a life of service to my fans and to fulfill my vision and my destiny" in addition to thinking about Chopra when it comes to her work as a musician: "I want so much for it to go beyond the music for my fans."
Musically, Gaga takes influence from numerous musicians from dance-pop singers like Madonna and Michael Jackson to glam rock artists like David Bowie and Queen whilst employing the theatrics of artists like Andy Warhol and of her musical theatre roots in performance. The Queen song "Radio Ga Ga" inspired her stage name, "Lady Gaga": "I adored Freddie Mercury and Queen had a hit called 'Radio Gaga'. That's why I love the name [...] Freddie was unique—one of the biggest personalities in the whole of pop music," she commented. Lady Gaga receives regular comparisons to recording artist Madonna. The 53-year-old singer admits that she sees herself reflected in Lady Gaga. In response to the comparisons, Lady Gaga has stated, "I don't want to sound presumptuous, but I've made it my goal to revolutionize pop music. The last revolution was launched by Madonna 25 years ago" in addition to commenting that "there is really no one that is a more adoring and loving Madonna fan than me. I am the hugest fan personally and professionally." Like Madonna, Gaga has continued to reinvent herself and, over the few years her career has spanned, Lady Gaga has drawn musical inspiration from a diverse mix of musicians including Whitney Houston, Britney Spears, Grace Jones, Cyndi Lauper, Blondie singer Debbie Harry, Scissor Sisters, Prince, Marilyn Manson and Yoko Ono.
Lady Gaga has identified fashion as a major influence and has been stylistically compared to American recording artist Cher and English eccentrics Leigh Bowery and Isabella Blow. She has considered Donatella Versace her muse and the late British fashion designer and close friend Alexander McQueen as an inspiration, admitting that "I miss Lee every time I get dressed" while channeling him in some of her work. Modeled on Andy Warhol's Factory, Lady Gaga has her own creative production team, which she handles personally, called the Haus of Gaga, who create many of her clothes, stage props, and hairdos. Her adoration of fashion came from her mother, who she stated was "always very well kept and beautiful." "When I'm writing music, I'm thinking about the clothes I want to wear on stage. It's all about everything altogether-performance art, pop performance art, fashion. For me, it's everything coming together and being a real story that will bring back the super-fan. I want to bring that back. I want the imagery to be so strong that fans will want to eat and taste and lick every part of us." The Global Language Monitor named "Lady Gaga" as the Top Fashion Buzzword with her trademark "no pants" a close third. Entertainment Weekly put her outfits on its end of the decade "best-of" list, saying, "Whether it's a dress made of Muppets or strategically placed bubbles, Lady Gaga's outre ensembles brought performance art into the mainstream."
Musical and performance style
Lady Gaga's musical and performance style has been the subject of much analysis and scrutiny of critics. She professes that she is "liberating" herself by constantly reinventing her image and sound, insisting that it is a practice she has been drawn to since her childhood. Her career has been a continuous experimentation with new musical ideas and images in constant quest for new heights of fame and acclaim.
Vocally, Lady Gaga has drawn frequent comparison to the ranges of Madonna and Gwen Stefani. Possessing the range of a contralto, Lady Gaga exhibits "overwhelming expression, instinctive vocal phrasing, '80s rock reminiscent chest belts and animalistic vocal ticks" while being able to move through 2.4 octaves. Lady Gaga, who refuses to lip sync, has manipulated her vocal style over the course of her career yet considers Born This Way (2011) "much more vocally up to par with what I've always been capable of." In summation of her voice, Entertainment Weekly wrote, "There's an immense emotional intelligence behind the way she uses her voice. Almost never does she overwhelm a song with her vocal ability, recognizing instead that artistry is to be found in nuance rather than lung power."
Although her early lyrics have been criticized for lacking intellectual stimulation, "[Gaga] does manage to get you moving and grooving at an almost effortless pace." She admits that her songwriting has been misinterpreted; her friend and blogger Perez Hilton articulated her message in a clearer way: "you write really deep intelligent lyrics with shallow concepts." Lady Gaga opined, "Perez is very intelligent and clearly listened to my record from beginning to end, and he is correct." "I love songwriting. It's so funny – I will just jam around in my underwear or I could be washing my dishes. I wrote several songs just at the piano," she confesses. Gaga believes that "all good music can be played at a piano and still sound like a hit." She has covered a wide variety of topics in her songs: while The Fame (2008) meditates on the lust for stardom, The Fame Monster (2009) expresses fame's dark side through monster metaphors. Born This Way (2011) is sung in English, French, German and Spanish and includes common themes in Lady Gaga's controversial songwriting like love, sex, religion, money, drugs, identity, liberation, sexuality, freedom and individualism.
Lady Gaga, recognized for her unconventionality, during a "blood soaked" performance (2010) The structure of her music is said to echo classic 1980s pop and 1990s Europop. Her debut album The Fame (2008) provoked The Sunday Times to assert "in combining music, fashion, art and technology, [Lady Gaga] evokes Madonna, Gwen Stefani circa 'Hollaback Girl', Kylie Minogue 2001 or Grace Jones right now" and a critic from The Boston Globe to comment that she draws "obvious inspirations from Madonna to Gwen Stefani... in [her] girlish but sturdy pipes and bubbly beats." Music critic Simon Reynolds wrote that "Everything about Gaga came from electroclash, except the music, which wasn't particularly 1980s, just ruthlessly catchy naughties pop glazed with Auto-Tune and undergirded with R&B-ish beats." The follow-up The Fame Monster (2009), saw Gaga's taste for pastiche, drawing on "Seventies arena glam, perky ABBA disco and sugary throwbacks like Stacey Q" while Born This Way (2011) also draws on the records of her childhood and still has the "electro-sleaze beats and Eurodisco chorus chants" of its predecessor but includes genres as diverse as opera, heavy metal, disco, and rock and roll. "There isn't a subtle moment on the album, but even at its nuttiest, the music is full of wide-awake emotional details," wrote Rolling Stone, who concluded: "The more excessive Gaga gets, the more honest she sounds."
Her performances are described as "highly entertaining and innovative"; the blood-spurting performance of "Paparazzi" at the 2009 MTV Video Music Awards was described as "eye-popping" by MTV.[164] She continued the "blood soaked" theme in The Monster Ball Tour, in which she wore a revealing leather corset and is "attacked" by a performer dressed in black who gnaws on her throat, causing "blood" to spurt down her chest, after which she lies "dying" in a pool of blood. Her performances of that scene on tour in England triggered protests from family groups and fans in the aftermath of a local tragedy, in which a taxi driver had murdered 12 people. "What happened in Bradford is very fresh in people's minds and given all the violence which happened in Cumbria just hours earlier, it was insensitive," said Lynn Costello of Mothers Against Violence. Her unconventionality continued at the 2011 MTV Video Music Awards when she performed in drag as her male alter ego, Jo Calderone, and delivered a lovesick monologue before a performance of her song "Yoü and I". Chris Rock has defended her flamboyant and provocative behavior. "Well, she's Lady Gaga," he said. "She's not 'Lady Behave Yourself.' Do you want great behavior from a person named Gaga? Is this what you were expecting?"
Public image
While Rolling Stone named Lady Gaga the "Queen of Pop" in 2011, public reception of Lady Gaga's music, fashion sense and persona are mixed. Her status as a role model, self-esteem booster for her fans, trailblazer and fashion icon who breathes new life into the industry is by turns affirmed and denied. Lady Gaga's albums have received mostly positive reviews and critics have pointed out her unique place in pop music, the need for new movements in popular culture, the attention Lady Gaga brings to modern social issues, and the inherently subjective nature of her art. In view of her influence on modern culture and her rise to global fame, sociologist Mathieu Deflem of the University of South Carolina has organized a course titled "Lady Gaga and the Sociology of Fame" since the spring of 2011 with the objective of unravelling "some of the sociologically relevant dimensions of the fame of Lady Gaga".
Contrary to her outré style, the New York Post described her early look as like "a refugee from Jersey Shore" with "big black hair, heavy eye makeup and tight, revealing clothes." Lady Gaga is a natural brunette; she bleached her hair blonde because she was often mistaken for Amy Winehouse. She has nine tattoos on the left side of her body (her father has banned etchings on her right): a unicorn head with a ribbon wrapped around its horn that says "Born This Way"; a small heart with "dad" written inside it; several white roses; a treble clef; three daises; "Tokyo Love" with a little heart; "Little Monsters" written in cursive; a peace symbol, which was inspired by John Lennon, who she stated was her hero; and a curling German script on her left arm quoting the poet Rainer Maria Rilke, her favorite writer, commenting that his "philosophy of solitude" spoke to her. Towards the end of 2008, comparisons were made between the fashions of Lady Gaga and recording artist Christina Aguilera that noted similarities in their styling, hair, and make-up. Aguilera stated that she was "completely unaware of [Gaga]" and "didn't know if it [was] a man or a woman." Lady Gaga released a statement in which she welcomed the comparisons due to the attention providing useful publicity, saying, "She's such a huge star and if anything I should send her flowers, because a lot of people in America didn't know who I was until that whole thing happened. It really put me on the map in a way."
When interviewed by Barbara Walters for her annual ABC News special 10 Most Fascinating People in 2009, Lady Gaga dismissed the claim that she is intersex as an urban legend. Responding to a question on this issue, she stated, "At first it was very strange and everyone sorta said, 'That's really quite a story!' But in a sense, I portray myself in a very androgynous way, and I love androgyny." In addition to Aguilera's statement, comparisons continued into 2010, when Aguilera released the music video of her single "Not Myself Tonight". Critics noted similarities between the song and its accompanying music video with Lady Gaga's video for "Bad Romance". There have also been similar comparisons made between Lady Gaga's style and that of fashion icon Dale Bozzio from the band Missing Persons. Some have considered their respective images to be strikingly parallel although fans of Missing Persons note that Bozzio had pioneered the look more than thirty years earlier. Nonetheless, Lady Gaga was named one of Vogue.com UK's Best Dressed people of 2010 while her stylist, Dazed & Confused creative director Nicola Formichetti, won the Fashion Creator of the Year Award at the British Fashion Awards.
Part of the reasoning for Lady Gaga's Best Dressed achievement was her attire worn to the 2010 MTV Video Music Awards: a dress supplemented by boots, a purse and a hat – each fabricated from the flesh of a dead animal. The dress, named Time magazine's Fashion Statement of 2010 and more widely known as the "meat dress", received divided opinions – evoking the attention of worldwide media but invoking the fury of animal rights organization PETA. Lady Gaga denied any intention of causing disrespect to any person or organization and wished for the dress to be interpreted as a statement of human rights with focus upon those in the LGBT community. In addition to this unconventionality, in a question posed about the necessary procedure to attach the prosthetics to give the appearance of recent horn-like ridges on her cheekbones, temples, and shoulders, Lady Gaga responded, "They're not prosthetics, they're my bones." She also clarified that they were not the result of plastic surgery, believing such surgery to only be the modern byproduct of fame-induced insecurity to which she does not subscribe. The interviewer's further probing brought Lady Gaga to the conclusion that they are an artistic representation of her inner inspirational light and part of the "performance piece" that is her musical persona: an inevitability of her becoming who she now is. When Lady Gaga briefly met with US president Barack Obama at a Human Rights Campaign fundraiser, he described the interaction as "intimidating" as she was dressed in 16-inch heels making her undoubtedly the tallest woman in the room.
Lady Gaga often refers to her fans as "Little Monsters" and in dedication, has had that inscription tattooed on "the arm that holds my mic." Her treatment of her "Little Monsters" has inspired criticism, due to the highly commercial nature of her music and image. To some, this dichotomy contravenes the concept of outsider culture. Camille Paglia in her 2010 cover story "Lady Gaga and the death of sex" in The Sunday Times asserts that Lady Gaga "is more an identity thief than an erotic taboo breaker, a mainstream manufactured product who claims to be singing for the freaks, the rebellious and the dispossessed when she is none of those." Writing for The Guardian, Kitty Empire opined that the dichotomy "...allows the viewer to have a 'transgressive' experience without being required to think. At [her performance's] core, though, is the idea that Gaga is at one with the freaks and outcasts. The Monster Ball is where we can all be free. This is arrant nonsense, as the scads of people buying Gaga's cunningly commercial music are not limited to the niche worlds of drag queens and hip night creatures from which she draws her inspiration. But Gaga seems sincere."
Philanthropy
Besides her career in music, Lady Gaga has also contributed to various charities and humanitarian works. In 2011, she launched her own non-profit organization, the Born This Way Foundation, which focuses on youth empowerment and issues like self-confidence, well-being, anti-bullying, mentoring, and career development. "My mother and I have initiated a passion project. We call it the Born This Way Foundation," Gaga said in a statement about the foundation, which takes its name from the eponymous 2011 single and album. "Together we hope to establish a standard of Bravery and Kindness, as well as a community worldwide that protects and nurtures others in the face of bullying and abandonment." The foundation will work with a number of partners, including the John D. and Catherine T. MacArthur Foundation, The California Endowment and the Berkman Center for Internet & Society at Harvard University.
For natural disasters, Gaga has also helped various relief efforts. Although declining an invitation to appear on the single "We Are the World 25" to benefit victims of the 2010 Haiti earthquake,[203] she donated the proceeds of her January 24, 2010 concert at New York's Radio City Music Hall to the country's reconstruction relief fund. All profits from her official online store on that day were also donated. Lady Gaga announced that an estimated total of $500,000 was collected for the fund. Hours after the 2011 Tōhoku earthquake and tsunami hit Japan on March 11, 2011, Gaga tweeted a message and a link to Japan Prayer Bracelets. All revenue from a bracelet she designed in conjunction with the company was donated to relief efforts. As of March 29, 2011, the bracelets raised $1.5 million. However, attorney Alyson Oliver filed a lawsuit against Lady Gaga in Detroit in June 2011, noting that the bracelet was subject to a sales tax and an extra $3.99 shipping charge was added to the price. She also believed that not all proceeds from the bracelets would go to the relief efforts, demanding a public accounting of the campaign and refunds for people who had bought the bracelet. Lady Gaga's spokesperson called the lawsuit "meritless" and "misleading". On June 25, 2011 Lady Gaga performed at MTV Japan's charity show in Makuhari Messe, which benefited the Japanese Red Cross.
Lady Gaga also contributes in the fight against HIV and AIDS with the focus upon educating young women about the risks of the disease. In collaboration with Cyndi Lauper, Lady Gaga joined forces with MAC Cosmetics to launch a line of lipstick under their supplementary cosmetic line, Viva Glam. Titled Viva Glam Gaga and Viva Glam Cyndi for each contributor respectively, all net proceeds of the lipstick line were donated to the cosmetic company's campaign to prevent HIV and AIDS worldwide. In a press release, Lady Gaga declared, "I don't want Viva Glam to be just a lipstick you buy to help a cause. I want it to be a reminder when you go out at night to put a condom in your purse right next to your lipstick." The sales of Gaga-endorsed Viva Glam lipstick and lipgloss have raised more than $202 million to fight HIV and AIDS.
With the performance of the bilingual song "Americano" from her second studio album Born This Way (2011), Lady Gaga jumped into the debate surrounding SB 1070, Arizona's immigration law. She premiered the tune for the first time on the Guadalajara, Mexico stop of her Monster Ball tour telling the local press that she could not "stand by many of the unjust immigration laws" in the United States.
LGBT advocacy
Lady Gaga attributes much of her early success as a mainstream artist to her gay fans and is considered to be a gay icon. Early in her career she had difficulty getting radio airplay, and stated, "The turning point for me was the gay community. I've got so many gay fans and they're so loyal to me and they really lifted me up. They'll always stand by me and I'll always stand by them. It's not an easy thing to create a fanbase." She thanked FlyLife, a Manhattan-based LGBT marketing company with whom her label Interscope works, in the liner notes of The Fame, saying, "I love you so much. You were the first heartbeat in this project, and your support and brilliance means the world to me. I will always fight for the gay community hand in hand with this incredible team." One of her first televised performances was in May 2008 at the NewNowNext Awards, an awards show aired by the LGBT television network Logo, where she sang her song "Just Dance". In June of the same year, she performed the song again at the San Francisco Pride event.
After The Fame was released, she revealed that the song "Poker Face" was about her bisexuality. In an interview with Rolling Stone, she spoke about how her boyfriends tended to react to her bisexuality, saying "The fact that I'm into women, they're all intimidated by it. It makes them uncomfortable. They're like, 'I don't need to have a threesome. I'm happy with just you'." When she appeared as a guest on The Ellen DeGeneres Show in May 2009, she praised DeGeneres for being "an inspiration for women and for the gay community". She proclaimed that the October 11, 2009 National Equality March rally on the National Mall was "the single most important event of her career." As she exited, she left with an exultant "Bless God and bless the gays," similar to her 2009 MTV Video Music Awards acceptance speech for Best New Artist a month earlier. At the Human Rights Campaign Dinner, held the same weekend as the rally, she performed a cover of John Lennon's "Imagine" declaring that "I'm not going to [play] one of my songs tonight because tonight is not about me, it's about you." She changed the original lyrics of the song to reflect the death of Matthew Shepard, a college student murdered because of his sexuality.
Lady Gaga attended the 2010 MTV Video Music Awards accompanied by four service members of the United States Armed Forces (Mike Almy, David Hall, Katie Miller and Stacy Vasquez), all of whom, under the United States military's "Don't ask, don't tell" (DADT) policy, had been prohibited from serving openly because of their sexuality. In addition, Lady Gaga wore a dress fabricated from the flesh of a dead animal to the awards ceremony. Lady Gaga wished that the dress, more widely known as the "meat dress", was interpreted as a statement of human rights with focus upon those in the LGBT community adding that "If we don't stand up for what we believe in and if we don't fight for our rights, pretty soon we're going to have as much rights as the meat on our own bones." She later released three videos on YouTube videos urging her fans to contact their Senators in an effort to overturn the policy. In late September 2010 she spoke at the Servicemembers Legal Defense Network's "4the14K" Rally in Deering Oaks Park in Portland, Maine. The name of the rally signified the number – an estimated 14,000 – of service members discharged under the DADT policy at the time. During her remarks, she urged members of the U.S. Senate (and in particular, moderate Republican Senators from Maine, Olympia Snowe and Susan Collins) to vote in favor of legislation that would repeal the DADT policy. Following this event, editors of The Advocate commented that she had become "the real fierce advocate" for gays and lesbians, one that Barack Obama had promised to be.
Lady Gaga appeared at Europride, a pan-European international event dedicated to LGBT pride, held in Rome in June 2011. In a nearly twenty-minute speech, she criticized the intolerant state of gay rights in many European countries and described homosexuals as "revolutionaries of love" before performing acoustic renderings of "Born This Way" and "The Edge of Glory" in front of thousands at the Circus Maximus. She stated that "Today and every day we fight for freedom. We fight for justice. We beckon for compassion, understanding and above all we want full equality now". Lady Gaga revealed that she is often questioned why she dedicates herself to "gayspeak" and "how gay" she is, to which, she told the audience: "Why is this question, why is this issue so important? My answer is: I am a child of diversity, I am one with my generation, I feel a moral obligation as a woman, or a man, to exercise my revolutionary potential and make the world a better place." She then joked: "On a gay scale from 1 to 10, I'm a Judy Garland fucking 42."
- from Wikipedia.org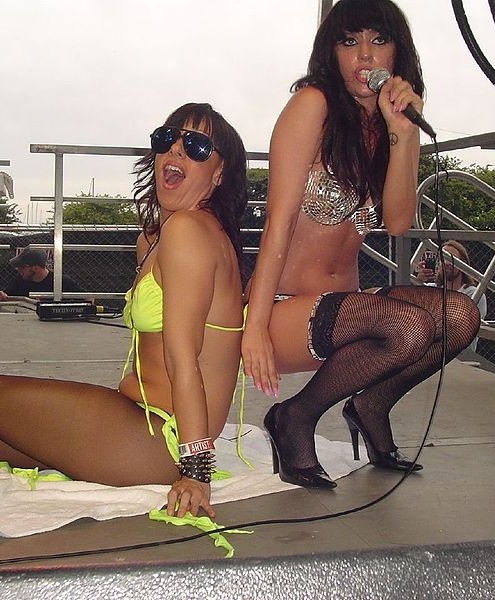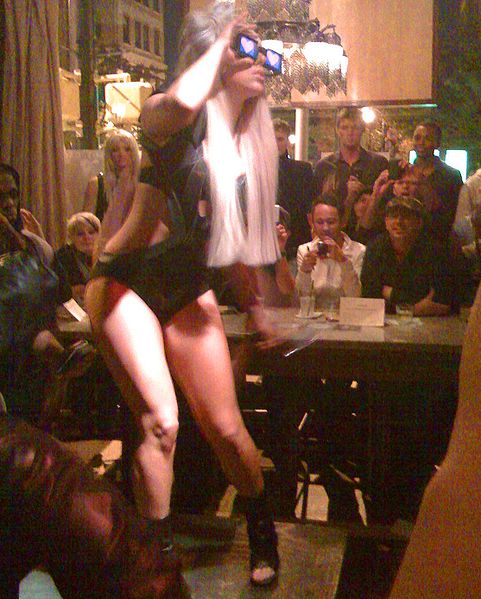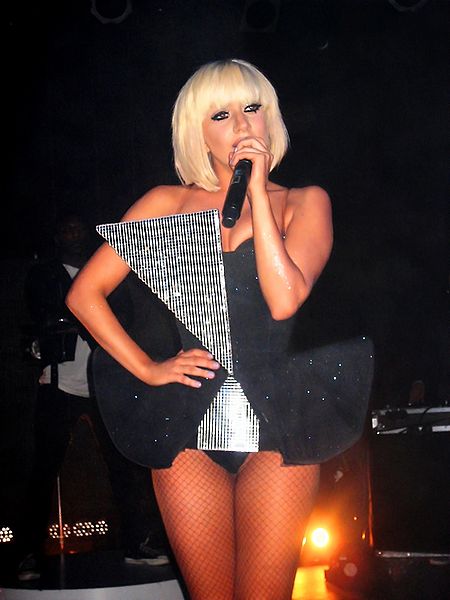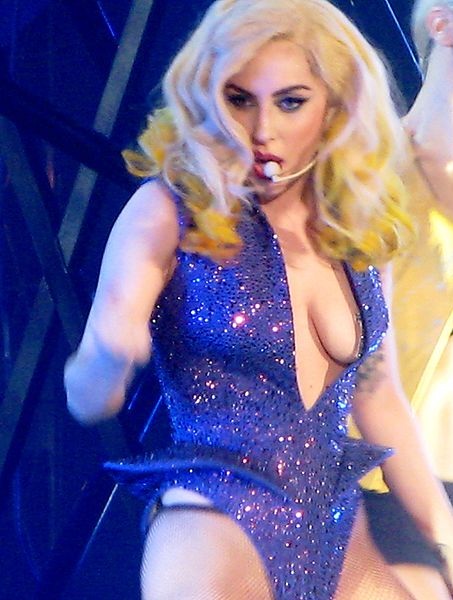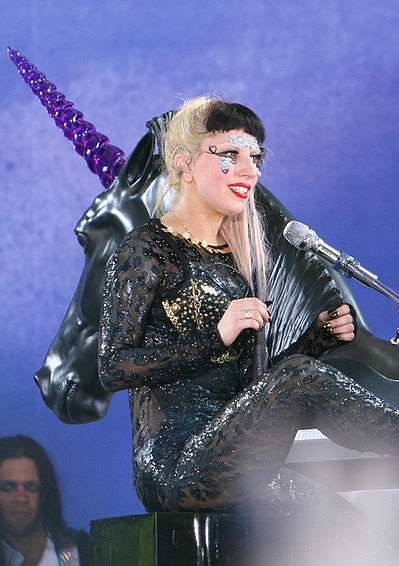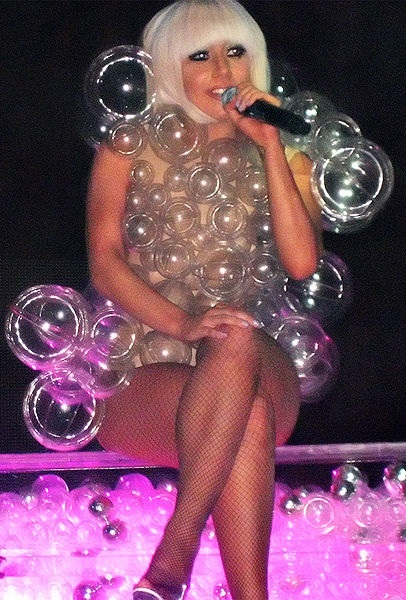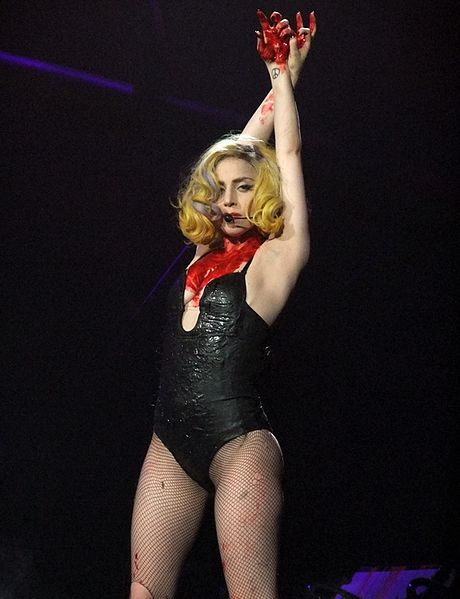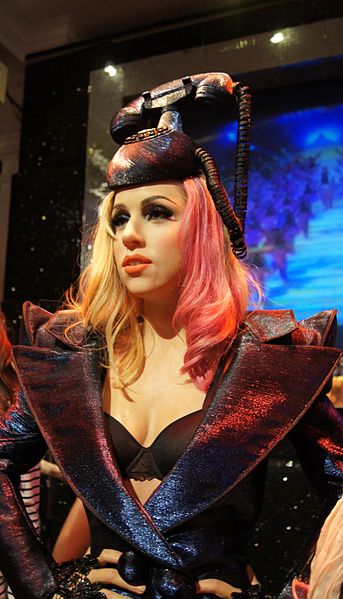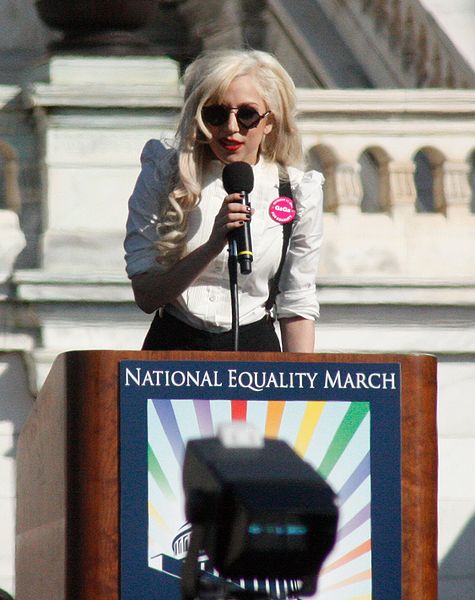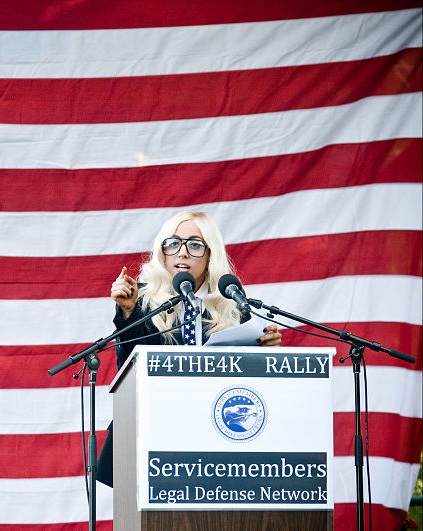 CLICK for Lady Gaga items available from Amazon.com
BACK to Superstar Gazing
---

---

---

---
BACK to Superstar Gazing