Katy Perry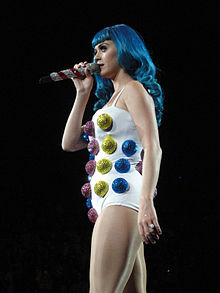 Katy Perry was born Katheryn Hudson on October 25, 1984 in Santa Barbara, California, USA. Perry grows up the middle child of two devout Christian ministers from Santa Barbara. "I was raised in a very pseudo-strict religious household where the only thing on the menu was [gospel standards like] 'Oh Happy Day,' 'His Eye Is on the Sparrow' and 'Amazing Grace'," Perry later tells MTV. The sheltered teen begins taking singing lessons and traveling to Nashville, where her parents have contacts in the gospel recording industry.
At 16, Perry releases a Christian pop album as Katy Hudson in 2001. "It reached literally maybe 100 people," the singer tells EW, "and then the label went bankrupt." A second venture in 2004, this time with mega-hit production team The Matrix of Avril Lavigne fame, falls through weeks before the album's release.
In 2008 Perry scores a record deal with Capital Records and ditches her Christian fan base for mainstream stardom with her pop debut, One of the Boys. The singer, who writes or cowrites every track on the album, makes waves with her '40s pin-up looks, risqué themes and tongue-in-cheek lyrics. "They're not meant to be 'Oh, no!' songs! They are my life, and I guess my life is a little bit 'Oh, no,'" she tells EW. "I Kissed a Girl," a flirty, pop-rock fusion, spends weeks atop the charts in more than 20 countries.
Perry begins dating Gym Class Heroes frontman Travis McCoy. "She's super hot," he tells PEOPLE of falling for his Warped tour tourmate. After a year of dating and even exchanging promise rings, they call it quits. "It hurts right now," Perry says during a concert after the split. "When you breakup with someone you move on. You don't really want to move on...but you have to because they don't give you any choice." The newly single star is eventually linked to musicians Benji Madden and Josh Groban.
After earning a Grammy nomination for best female pop vocal performance for "I Kissed a Girl", Perry launches her first headline tour, Hello Katy, complete with a huge inflatable cat head and 3-D fruit in 2009. "You're gonna see me with all kinds of different things," she tells the AP. In February, she also takes the Grammy stage to perform "I Kissed a Girl" amid giant colorful fruit, gyrating female dancers and user-submitted fan videos.
After joking about having a crush on her at the VMAs, British comedian Russell Brand and Perry take their new romance public. Three months later, Brand orchestrates a special New Year surprise in India, where he asks Perry to marry him with a ring hidden in flowers.
Covered by a cloud of cotton candy, Perry releases her second pop album, Teenage Dream in 2010. On the strength of its lead single "California Gurls," the singer's sophomore effort tops the Billboard 200 albums chart and earns her four Grammy nominations, including the coveted album of the year award. "It's really validating," she tells the AP of her album, which also earns a 2011 Grammy nomination for record of the year for her inspirational hit "Firework".
Perry and Brand tie the knot in a "very private and spiritual ceremony" held at a resort in India, the newlyweds announce in a statement. "Love between two people is the most spectacular yet ordinary thing in the world," the groom said in the days leading up to the nuptials. "We'll get married in front of our friends and family…and keep it sort of normal." The lavish affair, which lasted several days, treated guests to safaris, song and dance numbers and several parties.
In December of 2011, a mere 16 months after exchanging vows in India, Brand files for divorce from Perry. The couple, who were plagued by rumors of marital discord, initially defended their union, with the British comedian saying, "I am really happily married."
- from Anonymous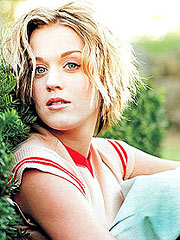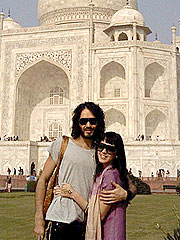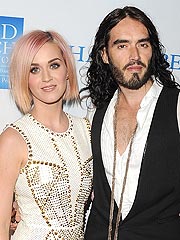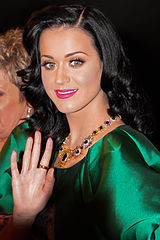 CLICK for Katy Perry items available from Amazon.com
BACK to Superstar Gazing
---
---
---

---
---
---
---
BACK to Superstar Gazing