---
---
---

---
---

---

---

---

---
---
BACK to Superstar Gazing

Ryan Seacrest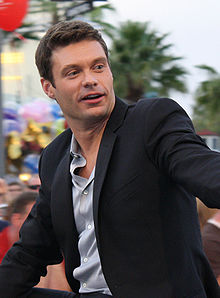 Ryan John Seacrest (born December 24, 1974) is an American radio personality, television host, network producer and voice actor. He is the host of On Air with Ryan Seacrest, a nationally syndicated Top 40 radio show that airs on KIIS-FM in Los Angeles and throughout the United States and Canada on Premiere Radio Networks, and the internationally syndicated chart show American Top 40, also syndicated by Premiere Radio Networks. On television, Seacrest hosts E! News and American Idol.
Seacrest was born on December 24, 1974, in an Atlanta suburb, Dunwoody, Georgia, the son of Constance Marie (nee Zullinger), a homemaker, and Gary Lee Seacrest. Connie Seacrest told the Atlanta Journal-Constitution, "Instead of playing with G.I. Joes or Cowboys and Indians, would always have a little microphone and do shows in the house." "But people would call my answering machine just to listen to his voice. They thought I had a professional doing it. That's when I thought, This might be bigger than I think it is."
People magazine revealed that "Ryan Seacrest's first time in the spotlight was in the fourth grade. He performed the singing role of King Winter in a school musical – and he forgot his lines." At age fourteen, he attended and soon became the "Voice of Dunwoody High School", as his school's regular morning public address system announcer. "I wore braces and glasses and was fat and got teased about it," Seacrest said, "but I was always very ambitious." At aged 16, while still attending high school, Seacrest won a hard-to-get internship at WSTR FM, in Atlanta, with Tom Sullivan, who trained him in the many aspects of radio. When the regular DJ called in sick, Sullivan put him on the air for the very first show of his broadcasting career. In a surprise phone call the next day, the station owner told Seacrest that, although he was not a professional, his stint of the night before had not been "too bad" Soon he was given the weekend overnight shift at WSTR. Seacrest continued to work on air at WSTR FM until graduating from Dunwoody High School in 1992.
Seacrest went on to study journalism at the University of Georgia in the fall of 1992. There, he would continue his radio show at a local Athens station. Seacrest left UGA at age 19 and moved to Hollywood to continue his broadcasting career. While there, he attended Santa Monica City College for a short time. By the time he was 20, he had landed a job in Los Angeles at KYSR-FM 98.7's afternoon show, called Ryan Seacrest for the Ride Home. His starting pay was $15 an hour. It became the station's No. 1 show and was nationally syndicated.
In 1993, Seacrest hosted the first season of ESPN's Radical Outdoor Challenge and in 1994, a kids show called Gladiators 2000 was created as a spinoff television show of American Gladiators. Seacrest appeared as the host of the fictional game show Lover's Lane on Beverly Hills, 90210 in "The Final Proof".
In the fall of 2000, Seacrest was the host of NBC Saturday Night at the Movies. On Saturdays in the fall of 2000 through the spring of 2001 NBC would dedicate the 8-11 PM EST block to showing a major theatrical film. Seacrest would appear as the host during the commercial breaks. He offered trivia on the film and a chance to win prizes by calling in a specific number. In 2001, he hosted a reality television program, Ultimate Revenge, where elaborate "get even" practical jokes were played on family and friends instigated by their own relatives and friends. The two seasons featured current radio talk show host Karel. It was shown on The New TNN from 2001 to 2003. Additionally in 2000, Seacrest hosted the International Hawaiian Tropic competition held at the Mandalay Bay Hotel in Las Vegas. He was hired for the hosting duties by Hawaiian Tropic founder, Ron Rice, as a result of his voice and radio work in Los Angeles. In 2010, Seacrest appeared in an advertisement for Scope mouthwash.
Radio
In January 2004, Seacrest became the new host of the radio program American Top 40, a syndicated weekly countdown show, created and formerly hosted by Casey Kasem. The show was syndicated by Premiere Radio Networks. In February 2004, Seacrest became host of Los Angeles radio station KIIS's morning show, replacing long-time host Rick Dees. This show, also known as On Air With Ryan Seacrest, remains on the air. Seacrest is the host, executive producer of this syndicated daily show airing on over 150 stations in North America, with affiliates worldwide. Kasem had been one of Seacrest's radio idols when he was growing up, along with Dick Clark. Seacrest asked Clark for some career advice, and Clark told him, "I believe a stake in ownership is important to have," and Seacrest negotiated a piece of the ownership for the televised On Air. Seacrest stated, "So maybe in 20 years it will still be called 'On Air', with someone else hosting the show, but I can still produce it. Because, let's be honest, you don't know how long people are going to let you into their homes." Recently, Kathy Griffin joined the long list of celebrity guests on Seacrest's radio program.
Leading host and producer
In 2002, Seacrest accepted the position as co-host of the hit reality TV series American Idol with comedian Brian Dunkleman. American Idol went on to phenomenal success, putting Seacrest in the national spotlight. The following year, when he became the sole host when Dunkleman left the show, Seacrest's on-screen enthusiasm made him an overnight sensation, and the show was seen by some twenty-six million viewers weekly. In 2003, Seacrest hosted the spin-off show, American Juniors. In January 2004, Seacrest launched a daily entertainment/variety/talk syndicated television program, On Air with Ryan Seacrest. Due to low ratings, the show was cancelled nine months later.
In January 2005, Seacrest hosted the "Celebration of Freedom" concert in Washington, DC for President George W. Bush, the Bush family and the United States Military. In August 2005, it was announced that Seacrest would become executive producer and co-host of Dick Clark's New Year's Rockin' Eve with Ryan Seacrest, and that he would be the producer-host's eventual successor. On December 31, 2005, Seacrest performed much of the show's hosting duties. Dick Clark's role was limited by speech and mobility issues due to his recovery from a stroke. Seacrest also occasionally served as a substitute host on the CNN television program Larry King Live, and co-emceed Larry King's final show with Bill Maher on December 16, 2010.
In January 2006, U.S. cable channel E! announced a three-year, $21 million deal for Seacrest to host and produce various programs, including E! News and its red carpet awards show coverages (E!'s signature piece of original programming). An Associated Press profile portrayed Seacrest as using both the deal with E! and the Dick Clark's New Year's Rockin' Eve involvement as a springboard towards a long-lasting career in television production and ownership. In April 2006, he won a Daytime Emmy Award for co-hosting the 2005 Walt Disney World Christmas Day Parade with Regis Philbin and Kelly Ripa. Seacrest had a cameo in the summer 2007 blockbuster film Knocked Up, where he steps out of his usual friendly host role on E! and rants about the stupidity of the interviews he has to conduct, noting that no one has anything to say about an exit strategy in Iraq or dealing with (presumably North) Korea. Seacrest hosted the 59th Primetime Emmy Awards on September 16, 2007. This is also the same year the reality show he produced Keeping Up with the Kardashians premiered with mostly negative critical reaction, but favored among viewers. In 2008, it was announced he had proposed two new shows: Bromance, a reality show on MTV featuring Brody Jenner, and an untitled scripted series he is producing with Paris Hilton.
Seacrest was executive producer for the reality dating show, Momma's Boys, which ran for six episodes from December, 2008 through January, 2009 on NBC. The series followed mothers as they worked with their sons to find their perfect match.
Seacrest was also the executive producer of E! reality show Denise Richards: It's Complicated which premiered on May 26, 2008. The show received numerous negative reviews. Boston Herald rated the show a D. Its critic Mark A. Perigard said of the first episode:"Denise Richards' life is one steaming pile of pig poop...Literally".
In 2007, Seacrest signed a partnership deal with Crest and Scope. The partnership encompasses print and broadcast advertising, and other appearances. Seacrest stated: "Signing on be the spokesperson for Crest and Scope was a perfect way for my work persona to fulfill a philanthropic need. Fresh breath and a white smile are important factors in my confidence whenever I have to step onstage. There are children in many countries who are born with mouth deformities and have no access to simple dental hygiene..." Crest, Scope, and Seacrest are working together to raise awareness for one of Seacrest's favorite charities. Sharing the belief that children everywhere should benefit from having a healthy smile, Crest and Scope agreed to match Seacrest's personal donations to Operation Smile. His Scope commercials have proven to be quite popular and are currently referenced in many entertainment blogs.
In August 2008, ABC picked up the option in Seacrest's contract to extend him as co-host of New Year's Eve through 2010, ringing in 2011, also renaming the program "Dick Clark's New Year's Rockin' Eve With Ryan Seacrest", to reflect Seacrest's role as co-host. Also in August, Seacrest named his longtime William Morris Agent, Adam Sher, as C.E.O. of Ryan Seacrest Productions and inked an expansive deal with the Comcast Entertainment Group, keeping him on E! Entertainment Television through early 2012. Comcast also gets first-look rights at all Ryan Seacrest Productions products. In July 2009, Seacrest inked a deal with CKX for $45 million, making him the highest paid reality television host to date.
In July 2010, it was announced that Seacrest was teaming up with E! to develop and produce their first dance show. It will feature Lady Gaga's choreographer, Laurie Ann Gibson. When Larry King decided to retire his microphone from his long-running Larry King Live in 2010, he suggested that Seacrest would be the ideal replacement. However, that job eventually went to Piers Morgan, a judge on America's Got Talent.
Personal life
Since the spring of 2010, Seacrest has been romancing Julianne Hough, a professional dancer, actress and singer best known for Dancing with the Stars.
In October 2009, Chidi Benjamin Uzomah Jr. was arrested while carrying a pocketknife at Seacrest's E! Entertainment Television offices. Uzomah was also in violation of a restraining order for an attack on a Seacrest security guard in August 2009. In November 2009, Uzomah was sentenced to two years in prison. In a declaration, Seacrest stated: "His aggressive and violent efforts to come into physical contact with me are extremely frightening to me. They have jeopardized not only my personal safety, but also the safety and well-being of those around me."
- from Wikipedia.org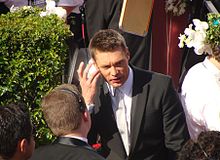 Click for Ryan Seacrest items available from Amazon.com
BACK to Superstar Gazing
---
---
RYAN SEACREST CELEB NEWS
---
---
---

---
---
---
---
BACK to Superstar Gazing