Jersey Shore
Jersey Shore is an American reality television series that premiered on MTV on December 3, 2009 in the United States. The series follows the lives of eight housemates spending their summer at the Jersey Shore in the U.S. state of New Jersey. Season 2 followed the cast escaping the cold northeast winter to Miami Beach, with Season 3 returning to the Jersey Shore. The fourth season, filmed in Italy, premiered on August 4, 2011. MTV confirmed in June 2011 that Season 5 will return to Seaside Heights. The show debuted amid large amounts of controversy regarding the use of the words "Guido/Guidette," portrayals of Italian-American stereotypes, and scrutiny from locals because the cast members were not residents of the area.
Dubbed a cultural phenomenon, the series has garnered record ratings for MTV, making it the network's most viewed series telecast ever. The series' cast has also been credited with introducing unique lexicon and phrases into American popular culture. The University of Chicago and the University of Oklahoma are among the educational institutions that have had classes or conferences about the show. In 2010, the cast of Jersey Shore was named on Barbara Walters' 10 Most Fascinating People list, and the series has since been exported to dozens of countries worldwide. It has been announced that the show will return on January 5, 2012 for season 5.
VH1 producer Anthony Beltempo proposed the idea of a show focusing on the "guido" lifestyle for TV, in the form of a competition series. Executive producer SallyAnn Salsano, who previously worked on A Shot at Love with Tila Tequila, devised a new concept, inspired by her summers in a Jersey summer share house. MTV Networks President Van Toffler felt that the series "loud, young, bold" style was better suited to MTV's sensibilities than VH1, and MTV programming executive Tony DiSanto felt that "[After The Hills], it was time to go for a more authentic approach, like a documentary." Van Toffler described the casting process by saying they looked for "candor, honesty, boldness and a very combustible, chaotic mess. You could honestly say none of these people were traditionally beautiful."
The series follows the lives of eight housemates spending their summer in a summer share in Seaside Heights, New Jersey. Season 1 followed cast members Angelina Pivarnick, Jennifer Farley, Michael Sorrentino, Nicole Polizzi, Paul DelVecchio, Ronald Ortiz-Magro, Samantha Giancola, and Vincenzo Guadagnino at the Jersey Shore. Jersey Shore premiered on December 3, 2009, with back-to-back episodes, averaging 1.375 million viewers. Although the initial ratings were considered unimpressive to Salsano, they slowly grew in popularity, and was the subject of parody on Saturday Night Live after the third week, a turnaround that MTV executive Tony DiSanto calls "the fastest 0 to 60 I've ever seen on a show." Season 1 posted strong growth every week and ranked #1 in its time period versus all cable competition among P12-34 (people 12 to 34 years old) during the first quarter of 2010, with a season high 2.6 rating for the finale. The season 1 finale audience, 4.8 million, was more than triple that of the premiere, an increase of more than 3.4 million, and was MTV's highest rated original series telecast in almost two years. Overall, the season 1 averaged 2.7 million viewers.
In an article in Rolling Stone, it was mentioned that the house had 35 remote-controlled cameras in fixed locations, 12 hand-held ones, one IMX camera and six DV cameras. Nicole Polizzi said that: They have cameras everywhere, all the time... You're always being watched. You kind of get a little paranoid, because you're like, 'Who's watching me?'... It's trippy. it messes with your head. But that's why we go crazy. That's why we fight with each other. That's why we drink. We're living in a house for two months with that shit. We can't have cellphones, TV, radio or internet... There's no normalcy. It's like a prison, with cameras. The only time we're not on camera is when we're in the shower, and that's why we all take three-hour showers, just to get away from it all.
In January 2010 MTV announced that a second season consisting of 12 episodes had been ordered and would air that summer. It would follow all of the first season cast as they avoided the cold northeast winter by relocating to the South Beach, Florida. In May 2010 the cast relocated back to the Jersey Shore for the rest of filming, but it was later determined that the production company had enough footage from the Miami shoot to fill the entire second season, and that the footage to be shot at the Jersey Shore would be used for a third season. The second season premiered on July 29, 2010, averaging 5.252 million viewers. Season 2 was the #1 television series in the P12-34 demographic for the summer of 2010 across all TV and has also posted continued growth every week.
On July 20, 2010, MTV announced that the cast, would return for a third season, with the exception of Pivarnick. Season 3 returned to the original Jersey Shore summer setting, and replaced Angelina with Deena Nicole Cortese, a longtime friend of Polizzi. The season's January 6, 2011 premiere was viewed by a record 8.45 million viewers, making it MTV's most viewed series telecast ever. The second episode of the season once again set a series and MTV high, with 8.56 million viewers, only to set another record with the airing of the fourth episode, which garnered 8.87 million viewers.
On January 25, 2011, it was confirmed that the show had been renewed for a fourth season, to be filmed in Italy during the first half of 2011. The fourth season premiered August 4, 2011. MTV confirmed in June 2011 that the fifth season will return to Seaside Heights.
Cast
Angelina Pivarnick
Staten Island, New York
Polish-Italian American
Pivarnick is a New York City bartender. She starts out the season with a serious relationship at home, but the two break up in episode 3, which indirectly leads to her eviction from the shore house after refusing to work her shift in the T-shirt shop. Pivarnik again departed the house during Season 2, after violent confrontations with Mike and Nicole. She did not return for Season 3. She calls herself the "Kim Kardashian of Staten Island," but is mocked by other cast members as the "Staten Island dump" or the " Rob Kardashian of Staten Island."
Deena Nicole Cortese
New Egypt, New Jersey
Italian American
Cortese, a longtime friend of Polizzi, had originally auditioned for season 1 and been rejected.[40] She eventually joins the cast starting in season 3. She describes herself as a "blast in a glass."
Jennifer Farley "JWoww"
Franklin Square, New York
Irish-Spanish American
Farley is a graphic designer and club promoter from Franklin Square, New York. During the casting process, she states, "I thought the guys would be enormous and really mean, and I thought the girls would be catty and overdone." She enters the shore house with a steady relationship at home but cheats on her boyfriend with castmate DelVecchio and ends her relationship in season 3 episode 4 for different reasons. Farley has had breast augmentation surgery, which she got as a birthday present to herself just before turning 21.
Michael Sorrentino "The Situation"
Staten Island, New York
Italian American
Sorrentino, an assistant manager of a fitness center in Staten Island, develops an attraction towards Giancola, which does not come into fruition when she becomes interested in fellow castmate Ortiz-Magro. Sorrentino worked as an exotic dancer in 2004. In the 2010 season of Dancing with the Stars, he partnered with Karina Smirnoff, but was eliminated in week 4.
Nicole Polizzi "Snooki"
Marlboro, New York
Chilean (adopted by Italian family)
Polizzi is from Marlboro, New York, and is an aspiring veterinary technician. She applied to an ad on Facebook that said "Calling all guidos and guidettes," which Polizzi said, "was definitely about my lifestyle." Polizzi earned the nickname "Snooki" in middle school after being the first of her friends to "make out" with a boy. She became the center of controversy when a man punched her in her face during a bar confrontation. Polizzi was arrested by Seaside police on July 30, 2010 on public intoxication charges, which were later dropped. She previously suffered from an eating disorder in high school.
Paul DelVecchio "Pauly D"
Johnston, Rhode Island
Italian American
DelVecchio is a disc jockey from Johnston, Rhode Island outside of Providence. He strikes up a brief romance with fellow castmate Farley but the relationship does not progress. DelVecchio was nominated for the 2010 "America's Best DJ" competition.
Ronnie Ortiz-Magro
Bronx, New York
Puerto Rican-Italian American
Ortiz-Magro is from The Bronx in New York City. He strikes up a relationship with castmate Giancola.
Sammi Giancola "Sweetheart"
Hazlet, New Jersey
Italian American
Giancola is from Hazlet, New Jersey and is recently single at the start of the series. She attended William Paterson University and was a midfielder on the women's soccer team. Giancola ultimately strikes up a relationship with fellow castmate Ortiz-Magro in season 1 episode 3.
Vinny Guadagnino
Staten Island, New York
Sicilian American
21-year-old Guadagnino comes from a traditional Italian American family in Staten Island. A graduate of the State University of New York at New Paltz who had plans to attend law school if acting did not work out. Guadagnino applied after a friend sent him an application asking for "the orangest, most muscley, spiky-haired people", which Guadagnino filled out "as a joke." Describing first meeting his castmates, he says, "I see Pauly and his spiky hair and his whole guido look. Great, they found the most stereotypical kid. Then Snooki seems like a train wreck. But you realize we're all starting this crazy new adventure." Guadagnino is an advocate for disenfranchised communities including LGBT teens and homeless animals. He has appeared in a PSA for the It Gets Better Project and has rescued and found homes for many animals in his local community. Guadagnino guest stars in The Hard Times of RJ Berger in episode, "Cousin Vinny" on March 28, 2011.
Controversies
MTV received criticism from Italian American organizations for the way in which they marketed the show, as it liberally used the word Guido to describe the cast members. The term 'guido' is generally regarded as an ethnic slur when referring to Italians and Italian Americans. One promotion stated that the show was to follow, "eight of the hottest, tannest, craziest Guidos," while yet another advertisement stated, "[the show] exposes one of the tri-state area's most misunderstood species... the GUIDO. Yes, they really do exist! Our Guidos and Guidettes will move into the ultimate beach house rental and indulge in everything the Seaside Heights, New Jersey scene has to offer."
Cast members Snooki and Jwow are not ethnically Italian. Snooki is Chilean, but was adopted as an infant by Italian American parents. Jwow is Irish and Spanish.
Prior to the series debut, UNICO National formally requested that MTV cancel the show. In a letter to the network, UNICO called the show a "...direct, deliberate and disgraceful attack on Italian Americans..." UNICO National President Andre DiMino said in a statement "MTV has festooned the 'bordello-like' house set with Italian flags and green, white and red maps of New Jersey while every other cutaway shot is of Italian signs and symbols. They are blatantly as well as subliminally bashing Italian-Americans with every technique possible..." Around this time, other Italian-American organizations joined the fight, including the NIAF, the Order Sons of Italy in America and the internet watch-dog ItalianAware.
MTV responded to the controversy by issuing a press release which stated in part, "the Italian-American cast takes pride in their ethnicity. We understand that this show is not intended for every audience and depicts just one aspect of youth culture." Since the calls for the show's removal, several sponsors have requested that their ads not be aired during the show. These sponsors include Dell, Domino's and American Family Insurance.
Governor Christie and the series' image on New Jersey
In a February 2010 interview, New Jersey Governor Chris Christie called the show "negative for New Jersey" because of the fact that most of the cast members are not from New Jersey. According to Christie, the program "takes a bunch of New Yorkers and drops them at the Jersey Shore and tries to make America feel like this is the real New Jersey." Governor Christie took action against the series by trying to encourage people to experience the real Jersey Shore for themselves rather than watch it through MTV: "I can tell people: they want to know what New Jersey really is? I welcome them to come to New Jersey any time." A Fairleigh Dickinson University PublicMind poll released in February 2010 showed that 59% of Americans who had seen the show had a favorable view of New Jersey compared to only 44% of those that had not seen the show. The FDU poll repeated the national telephone survey in 2011 and showed similar results. Consequently poll director Peter Woolley concluded that "These measures... suggest the show isn't hurting the nation's view of the state. In fact, it may be promoting one of the state's best features--not Snooki, but the shore itself." Nonetheless, in September 2011, Governor Christie vetoed a $420,000 tax incentive awarded to the show by the New Jersey Economic Development Authority, stating: "As chief executive, I am duty-bound to ensure that taxpayers are not footing a $420,000 bill for a project which does nothing more than perpetuate misconceptions about the state and its citizens."
- from Wikipedia.org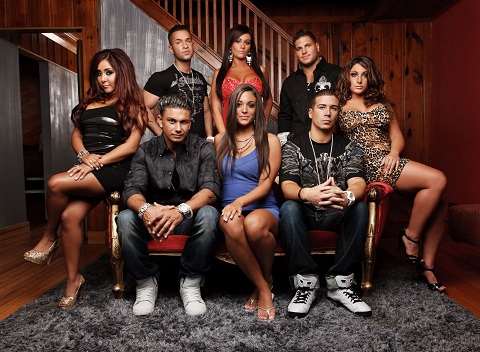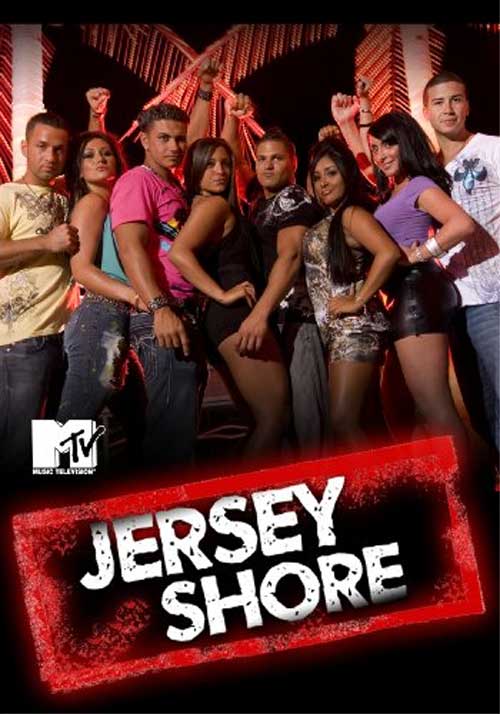 Click for Jersey Shore items available from Amazon.com
BACK to Superstar Gazing
---

---
---

---
---
---
---
BACK to Superstar Gazing