---
---
---

---
---

---

---

---

---
---
BACK to Superstar Gazing

Simon Cowell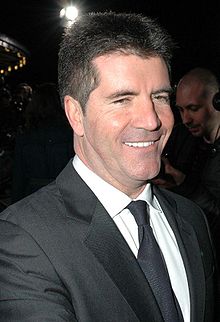 Simon Phillip Cowell (born 7 October 1959) is an English A&R executive, television producer, entrepreneur, and television personality. He is known in the United Kingdom and United States for his role as a talent judge on TV shows such as Pop Idol, The X Factor, Britain's Got Talent and American Idol. He is also the owner of the television production and music publishing house Syco.
As a judge, Cowell is known for his blunt and often controversial criticisms, insults and wisecracks about contestants and their abilities. He is also known for combining activities in both the television and music industries, having promoted singles and records for various artists, including television personalities. He was most recently featured on the fifth series of Britain's Got Talent and the first season of The X Factor USA. In 2010, the British magazine New Statesman listed Cowell at number 41 in a list of "The World's 50 Most Influential Figures 2010".
Cowell was born in Lambeth, London and brought up in Elstree, Hertfordshire. His father, Eric Phillip Cowell (1918-1999), was an estate agent developer and music industry executive; his mother, Julie Brett (née Josie Dalglish), is a former ballet dancer and socialite. Cowell's paternal grandparents, Joseph Cowell and Esther Malinsky, were English Jews, and his maternal grandfather was Scottish. He has one brother and three half-brothers; younger brother Nicholas Cowell, half-brother John Cowell, half-brother Tony Cowell and half-brother Michael Cowell. Michael is the oldest, followed by John, Tony, Simon and Nicholas respectively.
Cowell attended Radlett Preparatory School and the independent Dover College as did his brother, but left after taking GCE O levels. He passed in English Language and Literature and then attended Windsor Technical College where he gained another GCE in Sociology. At the age of 17, he dated model Paula Hamilton. Cowell took a few menial jobs—including, according to Tony, working as a runner on Stanley Kubrick's The Shining-but did not get along well with colleagues and bosses, until his father who was executive at the recording giant EMI Music Publishing, managed to get him a job in the mail room.
Cowell's father's connections originally got him rehired as the assistant to an A&R man. From there onwards, Simon worked his way up and eventually got promoted to a music publishing position but left during the early 1980s to form E&S Music with his boss at EMI, Ellis Rich (later Chairman of the Performing Right Society). The company had several hit records at one point with five singles in the UK top 40. The offices were in a converted gentleman's washroom in the NCP car park on Brewer Street in London's Soho district. Cowell left by mutual agreement a few years later. He worked for Iain Burton, manager of choreographer Arlene Phillips, co-founder of dance group Hot Gossip and of nascent independent record label Fanfare Records. Cowell worked with Burton for eight years at Fanfare where he achieved his first real success in the music industry, becoming a partner and building Fanfare into a highly successful 'indie' pop label. Fanfare had numerous top ten hits with various pop artists and particularly Sinitta, selling more than 500,000 copies of her debut single "So Macho", and more than 500,000 copies of her album Rondo Veneziano. Next in 1984, Cowell and Burton met up with Pete Waterman for the first time.
Mike Stock, Matt Aitken and Pete Waterman formed the songwriting and record producing trio known as Stock Aitken Waterman. Stock Aitken Waterman helped Fanfare during the second half of the 1980s producing several hit singles for Sinitta and licensing The Hit Factory SAW Compilation Albums to Fanfare. Next in 1989, Fanfare's parent, Public Company, found itself in difficulties, forcing Fanfare into the hands of BMG, and an in-debt Cowell was forced to move back in with his parents. Later that year, he became an A&R consultant for BMG.
Subsequently, Cowell signed up a number of acts to S-Records that became successful, including Curiosity Killed the Cat, Sonia, Five, Westlife, Robson & Jerome, and Ultimate Kaos. He also released several novelty recordings featuring the likes of Teletubbies, wrestlers of WWE[14] Zig and Zag and the Mighty Morphin Power Rangers, that were huge successes. In 2002, Cowell set up another label, Syco Music, which later became part of Columbia Records and Sony BMG Music Entertainment. Artists such as Leona Lewis, Il Divo and contestants from The X Factor and America's Got Talent are released on Syco. Cowell explained, "There has to come a point when I will step down from being on camera and remain behind the scenes because you can't keep doing this forever...I think by [the end of my contract] that the public will be sick to death of me anyway and it will be time to go."
In 2006, Cowell signed to two more record-breaking deals. In the USA, he agreed to remain as a judge on American Idol, earning £20 million (US$33 million) per season for another five years. He also has a deal with FOX which allows his production company to broadcast Got Talent and American Inventor on other networks, but he may not appear on them. In the UK, he signed a "golden handcuffs" deal with ITV, worth approximately £6.5 million a year for three years, which gave ITV rights to his talent show The X Factor, a British singing talent show, and Grease Is the Word, a musical talent show to find the stars of a Grease production in London's West End. In late 2005, he signed a new contract to remain working for Sony BMG.
In 2010, Cowell finalised a deal which secures the long-term business future of Syco with Sony Music Entertainment. The deal will also see him launching a US version of X Factor on 21 September 2011.
The X Factor
In 2004, with Sharon Osbourne and Louis Walsh, Cowell was a judge on the first series of the British television music competition The X Factor, which he created using his production company, Syco. The X Factor was an instant success with the viewers and began its eighth series in 2011.
Leona Lewis, the winner of the third series of The X Factor, was signed to Cowell's label Syco and has gone on to become an international star, with number one singles and album sales around the world. Cowell returned for a fourth series on 18 August 2007 alongside Osbourne, Walsh and new judge, Dannii Minogue. Walsh had previously been sacked from the judging panel by Cowell for the fourth series, and was subsequently replaced by Brian Friedman, who was a judge on Grease Is the Word. Walsh was later brought back a week into the auditions by Cowell when he and Osbourne realised that they missed Walsh and that without him, there was no chemistry between the judges. Cowell returned for the fifth series in 2008, with Walsh, Minogue and new judge Cheryl Cole, as Osbourne decided to quit before the show began. Cowell returned for series 6 and 7 as well, although series 7 was his to be his last, as he left in 2011 in order to launch The X Factor in America.
The X Factor Australia launched in 2005, but was cancelled due to poor ratings. It returned to Australian television for its second season on 30 August 2010, with Kyle Sandilands, Ronan Keating, Guy Sebastian and Natalie Imbruglia as judges. Matthew Newton will host the show. Season 3 began on 29 August 2010 and ended on 22 November. It featured Ronan Keating, Mel B, Guy Sebastian and Natalie Bassingthwaighte as judges.
Cowell also launched The X Factor USA in September 2011 on American broadcaster Fox. It was originally announced that he would be a judge both on the UK and U.S. editions of the show, which air at similar times of the year, but MTV officially reported on 17 April 2011 that this was not true; Cowell is no longer a judge in the UK version, but instead will be an enormous presence backstage. He currently is a judge on The X Factor USA alongside Paula Abdul, L.A. Reid, Nicole Scherzinger and formerly Cheryl Cole.
In October 2010, Cowell signed new three-year deals with ITV for both Britain's Got Talent and The X Factor, renewing both shows until 2013.
Got Talent franchise
Following the success of the Idol and X Factor franchises, Cowell, his company Syco, and its business partners developed a talent show format open to performers of any kind, not only singers, but also dancers, instrumentalists, magicians, comedians, novelty acts, and so on. The origins of the Got Talent format can be traced to the British show Opportunity Knocks, which began as a radio programme in the 1940s and later transferred to television, where it was an ITV staple for several decades. Looking further back, Opportunity Knocks had its roots in the variety show traditions of British music hall and American vaudeville.
Cowell is the executive producer of America's Got Talent, which debuted in June 2006, along with Fremantle producers of the Idol series, but he does not appear on the show due to the terms of his contract with FOX. The show was a huge success for NBC, drawing around 12 million viewers a week, and beating So You Think You Can Dance on FOX (produced by rival and Idol creator Simon Fuller).
Britain's Got Talent debuted on ITV in June 2007. Cowell appears as a judge alongside Amanda Holden and Piers Morgan. The show was a ratings success and second and third seasons followed in 2008 and 2009. The third series featured a publicity coup when Susan Boyle made a global media impact with her regional audition performance comparable to that of any previous talent show series winner.
- from Wikipedia.org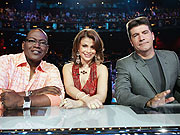 Click for Simon Cowell books, music, TV shows and more available from Amazon.com
BACK to Superstar Gazing
---
---
---

---
---
---
---
BACK to Superstar Gazing