---
---
---

---
---

---

---

---

---
---
BACK to Superstar Gazing

Tyler Perry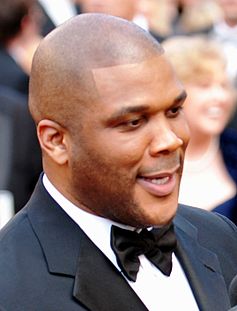 Tyler Perry, born Emmitt Perry, Jr - September 13, 1969, is an American actor, director, playwright, entrepreneur, screenwriter, producer, author, and songwriter. Perry wrote and produced many stage plays during the 1990s and early 2000s. In 2005, he released his first film, Diary of a Mad Black Woman. In 2011, Forbes named him the highest paid man in entertainment, earning $130 million between May 2010 and 2011.
Perry was born in New Orleans, Louisiana, as Emmitt Perry, Jr. His family consisted of three siblings, his mother, Willie Maxine Perry (nee Campbell), and his father, Emmitt Perry, Sr., a carpenter. Perry once said his father's "only answer to everything was to beat it out of you". As a child, Perry once went so far as to attempt suicide in an effort to escape his father's beatings. In contrast to his father, his mother took him to church each week, where he sensed a certain refuge and contentment. At age 16, he had his first name legally changed from Emmitt to Tyler in an effort to distance himself from his father.
Many years later, after seeing the film Precious, he was moved to relate for the first time accounts of being molested by a friend's mother at age 10; he was also molested by three men previous to this, and later found out his own father had molested his friend.
While Perry did not complete high school, he earned a GED. In his early 20s, watching an Oprah Winfrey talk show, he heard someone describe the sometimes therapeutic effect that the act of writing can have, enabling the author to work out his or her own problems. This comment inspired him to apply himself to a career in writing. He soon started writing a series of letters to himself, which became the basis for the musical, I Know I've Been Changed.
Stage
Around 1990, he moved to Atlanta, where two years later I Know I've Been Changed was first performed at a community theater, financed by the $12,000 life savings of the 22-year-old Perry. It included Christian themes of forgiveness, dignity and self-worth, while addressing issues such as child abuse and dysfunctional families. The musical initially received a "less than stellar" reception and was a financial failure. Perry persisted, and over the next six years he rewrote the musical repeatedly, though lackluster reviews continued. In 1998, at age 28, he succeeded in retooling of the play in Atlanta first at the House of Blues, then at the Fox Theatre. Perry continued to create new stage productions, touring with them on the so-called "chitlin' circuit" (now also known as the "urban theater circuit") and developing a large, devoted following among African-American audiences. In 2005, Forbes reported that he had sold "more than $100 million in tickets, $30 million in of his shows and an estimated $20 million in merchandise" and that "the 300 live shows he produces each year are attended by an average of 35,000 people a week."
Film
Perry received a $5.5 million budget to fund his first movie, Diary of a Mad Black Woman, which went on to gross $50.6 million domestically, while scoring a 16 percent approval rating at the film review web site, Rotten Tomatoes. On its opening weekend, February 24–26, 2006, Perry's film version of Madea's Family Reunion opened at number one at the box office with $30.3 million. The film eventually grossed $65 million. Perry and his co-stars promoted the film on The Oprah Winfrey Show. As with Diary, almost all of the Madeas' earnings have been generated in the United States.
Perry's next Lionsgate project, Daddy's Little Girls, starred Gabrielle Union and Idris Elba and was released in the U.S. on February 14, 2007. It grossed over $31 million. Perry wrote, directed, produced and starred in his next film, Why Did I Get Married?, released on October 12, 2007. It opened at number one, grossing $21.4 million that weekend. It is loosely based on his play of the same name. Filming began March 5, 2007, in Whistler, British Columbia, Vancouver, then moved to Atlanta, where Perry had opened his own studio. Janet Jackson, Sharon Leal, Jill Scott and Tasha Smith appeared in the film. Perry's 2008 film, Meet the Browns, released on March 21, opened at number two with a $20,082,809 weekend gross. The Family That Preys opened on September 12, 2008, and grossed over $37.1 million.
Madea Goes to Jail opened at number one on February 20, 2009, grossing $41 million and becoming his largest opening to date. This was Perry's seventh film with Lionsgate Entertainment. At the request of director J. J. Abrams, Perry had a cameo appearance in Star Trek as the Starfleet Academy commandant Admiral Barnett, which opened on May 8, 2009. This was his first film appearance outside of his own projects.
Perry next wrote, directed, and starred in I Can Do Bad All By Myself, a film structured around his Madea character. This was Perry's eighth film and also made number one at the box office. In 2009, Perry teamed with Oprah Winfrey to present Precious, a film based on the novel Push by Sapphire.
Why Did I Get Married Too?, the sequel to Why Did I Get Married?, opened in theaters on April 2, 2010. It featured Janet Jackson, Cicely Tyson, Louis Gossett, Jr., Jill Scott and Malik Yoba. As of April 18, the film has grossed over $54 million domestically, with $29 million made the opening weekend.
Perry directed a film adaptation of Ntozake Shange's For Colored Girls Who Have Considered Suicide When the Rainbow Is Enuf. It was released November 5, 2010. He appeared in the stage show Madea's Big Happy Family, which toured the U.S. and was a movie in 2011, written, directed by, and starring Perry. Madea's Big Happy Family raked in 25.8 million dollars at the box office, taking 2nd place.
Perry is also slated to take over the role of James Patterson's Alex Cross from Morgan Freeman in the pending film adaptation of I, Alex Cross.
Perry's films are co-produced and distributed by Lionsgate Entertainment; he retains full copyright ownership under the corporate name Very Perry Films, and places his name in front of all titles. Perry's movies have seen very limited release outside North America, but in May 2010 Lionsgate announced plans to begin releasing his films in the United Kingdom.
Perry's next film with Lionsgate is set to be Good Deeds, as he again will work behind and in front of the camera. Perry will be playing lead character, Wesley Deeds. The movie is also set to star Thandie Newton, Rebecca Romijn, Gabrielle Union, Eddie Cibrian, Jamie Kennedy, Phylicia Rashad and others.
As of June 2011, Perry's films had grossed over $500 million worldwide.
Television
Perry produces a television show entitled Tyler Perry's House of Payne, which follows an African-American household of three generations. The show demonstrates the family members' struggles with faith and love, as well as living with different generations. The show ran in the spring of 2006 as a 10-show pilot. After the successful pilot run, Perry signed a $200 million, 100-episode deal with TBS. On June 6, 2007, the first two episodes of Tyler Perry's House of Payne ran on TBS. After receiving high ratings, House of Payne entered broadcast syndication. Reruns were played through December 2007 before the second season began. The third season began on March 5, 2008 and the fourth season on June 4, 2008. House of Payne airs on TBS.
The Writers Guild of America, West has filed unfair labor practice charges with the National Labor Relations Board (NLRB), alleging that Perry's production company, House of Payne, unlawfully fired four writers in October 2008 in retaliation for their trying to get a union contract. The dispute was settled a month later, when Tyler Perry Studios agreed to be a WGA signatory.
Perry wrote, directed and produced the sitcom Meet the Browns, which premiered on TBS on January 7, 2009.
Perry has said he may produce more sitcoms entitled Floyd's Family, a spin off of House of Payne featuring the character Floyd, and another called For Better or Worse based on the play and motion picture, Why Did I Get Married and its sequel.
In early 2009, Perry threatened legal action against Mo' Money Taxes, a tax preparation company based in Memphis, for running a TV spot that he felt offensively parodied his work, in particular Madea Goes to Jail. The ad features a large Caucasian male (John Cowan) in drag, named "Ma'Madea". The offending ad was dropped from circulation.
- from Wikipedia.org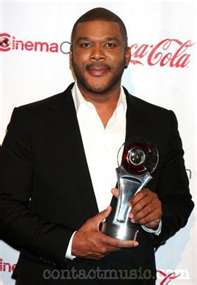 Click for Tyler Perry TV shows, Movies and more available from Amazon.com
BACK to Superstar Gazing
---
---
---

---
---
---
---
BACK to Superstar Gazing