---
---
---

---
---

---

---

---

---
---
BACK to Superstar Gazing

Jennifer Aniston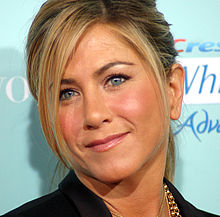 Jennifer Joanna Aniston (born February 11, 1969) is an American actress, film director, and producer. Aniston gained worldwide recognition in the 1990s for portraying Rachel Green on the television sitcom Friends, a role which earned her an Emmy Award, a Golden Globe Award, and a Screen Actors Guild Award. Aniston has also enjoyed a successful Hollywood film career. She gained critical acclaim for her performances in the independent films She's the One (1996), Office Space (1999), The Good Girl (2002), and Friends with Money (2006). She has had her greatest commercial successes with the films Bruce Almighty (2003), The Break-Up (2006), Marley & Me (2008), Just Go with It (2011), and Horrible Bosses (2011). Aniston has been selected for a star on the Hollywood Walk of Fame in 2012.
Jennifer Aniston was born in Sherman Oaks, Los Angeles to actors John Aniston and Nancy Dow. Her father is Greek and a native of Crete. Her mother was born in New York City of Scottish-Canadian and Italian descent. Aniston has two half-brothers, John Melick, her maternal older half-brother, and Alex Aniston, her younger paternal half-brother. Aniston's godfather was actor Telly Savalas, one of her father's best friends. As a child, Aniston lived in Greece for one year with her family. They later relocated to New York City. Aniston attended the Rudolf Steiner School in New York, and graduated from Manhattan's Fiorello H. LaGuardia High School of Music & Art and Performing Arts. She worked in Off Broadway productions such as For Dear Life and Dancing on Checker's Grave, and supported herself with several part-time jobs, which included working as a telemarketer, waitress, and bike messenger. In 1989, Aniston moved to Los Angeles, California.
Aniston was cast in her first television role in 1990, starring as a regular on the short-lived series Molloy and in the TV movie Camp Cucamonga. She also co-starred in Ferris Bueller, a television adaptation of the 1986 hit movie Ferris Bueller's Day Off. The series, however, was quickly canceled. Aniston then appeared in two more failed television comedy series, The Edge and Muddling Through, and guest-starred on Quantum Leap, Herman's Head, and Burke's Law. After the string of canceled shows, along with her appearance in the critically derided 1992 horror film, Leprechaun, Aniston reportedly considered giving up acting.
Aniston's plans changed, however, after auditioning for Friends, a sitcom that was set to debut on NBC's 1994-1995 fall lineup. The producers of the show originally wanted Aniston to audition for the role of Monica Geller, but Courteney Cox was considered to be better suited to the role. Thus, Aniston was cast as Rachel Green. She was also offered a spot as a featured player on Saturday Night Live, but turned it down to do Friends. She played the character of Rachel from 1994 until the show ended in 2004.
The program was successful and Aniston, along with her co-stars, gained world-wide reputation among television viewers. Aniston received a salary of $1 million per episode for the last two seasons of Friends, as well as five Emmy nominations (two for Supporting Actress, three for Lead Actress), including a win for Outstanding Lead Actress in a Comedy Series. According to the Guinness World Book of Records (2005), Aniston (along with her female costars) became the highest paid TV actress of all time with her $1 million-per-episode paycheck for the tenth season of Friends.
In 2007, Aniston guest starred in an episode of Courteney Cox Arquette's series Dirt, playing Arquette's rival, Tina Harrod. She appeared in the third episode of Season 3 of NBC's 30 Rock playing Liz Lemon's old college roommate who stalks Jack Donaghy. On July 16, 2009, Aniston received an Emmy nomination in the category of Outstanding Guest Actress in a Comedy Series for her role on 30 Rock. Aniston was a guest star on the Season 2 premiere of ABC's sitcom Cougar Town, playing a psychiatrist.
While appearing on Friends, Aniston also started segueing into film roles. She made her film debut in 1992's Leprechaun, which was negatively reviewed by critics, but was commercially successful and gained a cult following. Following a four year hiatus from cinema, Aniston returned to film work in 1996, when she played supporting roles in the independent films Dream for an Insomniac, and She's the One, alongside Edward Burns and Cameron Diaz. Aniston's first starring vehicle was the film Picture Perfect (1997), in which she starred opposite Kevin Bacon and Jay Mohr. While the film received mixed reviews, Aniston's performance was more warmly received, with many critics suggesting that she had screen presence. During the second half of the 1990s she starred in several films such as the ensemble romantic film 'Til There Was You (1997) with Dylan McDermott and Sarah Jessica Parker, The Thin Pink Line (1998), the animated feature The Iron Giant (1999), and the critically acclaimed comedy Office Space (1999). She gained critical acclaim for her performances in The Object of My Affection (1998), a comedy-drama about a woman who falls for a gay man (played by Paul Rudd), and in the low-budget 2002 film The Good Girl, playing an unglamorous cashier in a small town. The latter film opened in relatively few theaters-under 700 in total-taking $14M in the U.S. box office.
Aniston's biggest box office success to date was her appearance in 2003's Bruce Almighty, in which she played the live-in girlfriend of Jim Carrey's title character. Aniston then starred in the 2004 film Along Came Polly opposite Ben Stiller. In late 2005, Aniston appeared in two major studio films, Derailed and Rumor Has It…. In 2006, Aniston appeared in the low-budget drama Friends with Money, which was first shown at the Sundance Film Festival and received a limited release. Aniston's next film, The Break-Up, which was released on June 2, grossed approximately $39.17 million during its opening weekend, despite lukewarm reviews. In 2006, Aniston directed a hospital emergency room-set short film called Room 10, starring Robin Wright Penn and Kris Kristofferson as part of Glamour's Reel Moments film series. Aniston noted that she was inspired to direct by actress Gwyneth Paltrow, who also directed a short film in 2006.
On December 25, 2008, Marley & Me, in which Aniston starred alongside Owen Wilson, was released. It set a record for the largest Christmas Day box office ever with $14.75 million in ticket sales. It earned a total of $51.7 million over the four-day weekend and placed #1 at the box office, a position it maintained for two weeks. The total worldwide gross was $242,717,113. Her next film in wide release, He's Just Not That into You, where she starred opposite Ben Affleck, opened in February 2009. The movie made $27.5 million, ranking #1 at the box office in its opening weekend. While the film received mixed reviews, Aniston, along with Affleck, Ginnifer Goodwin, and Jennifer Connelly, were often praised by critics as being the stand-outs in the film.
In March 2010, Aniston appeared in The Bounty Hunter, which costarred Gerard Butler. While the film received scathing reviews from critics, it was a modest box office success, garnering over $130 million worldwide. A lukewarm box-office reception greeted her next film, The Switch, in which she co-starred with Jason Bateman. The film's opening weekend drew what The Hollywood Reporter dubbed "a dispiriting $8.4 million". The film received generally mixed reviews, with review site Metacritic showing 13 out of 30 critics delivering a positive verdict.
By June 20, 2010, Aniston's movies had grossed more than $1 billion in the United States and over $1.7 billion worldwide. Aniston's Just Go with It, with Adam Sandler, was released on Valentine's Day weekend in 2011. The story is about a plastic surgeon, played by Sandler, who asks his office manager, played by Aniston, to pose as his wife, to prove his honesty to his much younger girlfriend, played by Brooklyn Decker. Also in 2011, Aniston starred in the comedy movie Horrible Bosses, with Colin Farrell, Jason Bateman, Charlie Day, and Jamie Foxx, directed by Seth Gordon. The film focuses on a trio of employees who plot to murder their titular tyrannical supervisors. Aniston played one of the bosses, a sexually aggressive dentist who harasses Charlie Day's character.
In 2012, Aniston will be seen in Wanderlust with Paul Rudd, with whom she co-starred in the 1998 movie The Object of My Affection and also Friends. The script, which has been bought by Universal Pictures, was written by Rudd, Ken Marino, and David Wain with the latter also directing the film and will be produced by Judd Apatow. The movie tells the story of a married couple who join a commune after losing their money and deciding modern life is not for them.
- from Wikipedia.org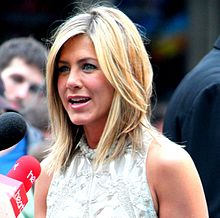 Click for Jennifer Aniston TV Shows, Movies and more available from Amazon.com
BACK to Superstar Gazing
---
---
---

---
---
---
---
BACK to Superstar Gazing