---
---
---

---
---

---

---

---

---
---
BACK to Superstar Gazing

Dr Phil McGraw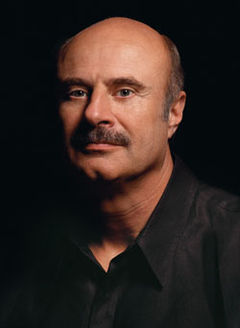 Dr. Phil McGraw, perhaps the most well-known mental health professional in the world, is the host of the new leader in daytime talk, Dr. Phil. Launched in 2002, Dr. Phil provides the most comprehensive forum on mental health issues in the history of television. For nine years, Dr. McGraw has used the Dr. Phil platform to make psychology accessible and understandable to the general public by addressing important personal and social issues. Using his top-rated show as a teaching tool, he takes aim at the critical issues of our time, including the "silent epidemics" of bullying, drug abuse, domestic violence, depression, child abuse, suicide and various forms of severe mental illness.

Dr. McGraw uses the power of television to tell compelling stories about real people with a wide range of emotional and behavioral problems, stripping away the shame and embarrassment that often keep people from seeking help. Many viewers, for the first time in their lives, develop an understanding of problems experienced by their families and themselves and, in the comfort of their homes, experience the hope and possibility of change. With a strong commitment to research and the assistance of leading scholars and behavioral scientists, Dr. McGraw educates viewers about state-of-the-art and evidence-based treatment options for many of the most challenging problems faced by individuals, couples and families. His unique dedication to families and children is legend to the millions of people around the world who watch his show and read his books.

Dr. McGraw's work was recognized by the American Psychological Association in 2006, by honoring him with a presidential citation. Over the years, the Dr. Phil show has received 21 Emmy nominations and won 5 PRISM Awards, for the accurate depiction of drug, alcohol and tobacco abuse and addiction. In addition, The Alliance for Women in Media, sponsors of the Gracie Award, named after Gracie Allen, has honored Dr. Phil every year since 2008.

In addition to creating more than 1,500 hours of national television devoted to helping people create better lives and families, Dr. McGraw is the author of six #1 New York Times bestsellers, published in 39 languages with more than 24 million copies in print. Because of his broad education, training and experience in the field of psychology, and his unique ability to effectively communicate in common sense language, Dr. McGraw is frequently called upon for his expert opinion on current events by major national and international news outlets including the Today show, Good Morning America, The Early Show and Anderson Cooper 360.

In 2003, Dr. McGraw established The Dr. Phil Foundation, a nonprofit charitable organization, funding many worthy projects benefitting disadvantaged children and families. In addition to his work with the Dr. Phil Foundation, Dr. McGraw is a frequent supporter of many worthwhile organizations, including the Court Appointed Special Advocates program. Dr. McGraw and his wife, Robin have devoted countless hours promoting their recruitment project generating an increase of 100 million dollars of volunteer services in just one year. Additionally, he frequently supports disaster relief and was quick to volunteer in post-Katrina New Orleans and in earthquake-ravaged Haiti. The Dr. Phil Foundation is another tool in McGraw's arsenal to fight problems that cripple our society in subtle but undeniable ways.

Dr. McGraw earned a B.A., M.A. and a Ph.D. in clinical psychology from the University of North Texas, followed by a year of post doctoral training in Forensic Psychology at The Wilmington Institute. Dr. McGraw was a licensed psychologist in the State of Texas and practiced clinical psychology where he developed a multimodal treatment protocol for chronic pain patients. With his training and interest in forensic psychology, Dr. McGraw founded CSI (Courtroom Sciences, Inc.), a consulting firm specializing in litigation strategies performing a wide variety of forensic activities. After 25 years, he retired from practice as a licensed psychologist to devote full time to his educational media platform.

An avid tennis player, golfer and scuba diver, Dr. McGraw lives in Los Angeles with his wife Robin. The couple, married for 35 years, is totally devoted to their family, including sons Jay and Jordan, and Jay's wife, Erica, who recently gave birth to Dr. Phil and Robin's first grandchild, Avery Elizabeth, and is expecting a baby boy, due in September.


- from Dr.Phil.com
Click for Dr Phil books and other items available from Amazon.com
BACK to Superstar Gazing
---
---
---

---
---
---
---
BACK to Superstar Gazing